Killed Haiti President, Jovenel Moïse Buried!
Haiti's murdered president, Jovenel Moïse, has been laid to rest today, July 23, 2021, more than two weeks after he was assassinated in a late-night raid.
Pallbearers in military attire carried late Haitian President Jovenel Moise's body in a closed wooden coffin as his funeral got underway.
Moïse's casket was draped with the Haitian flag and adorned with white flowers.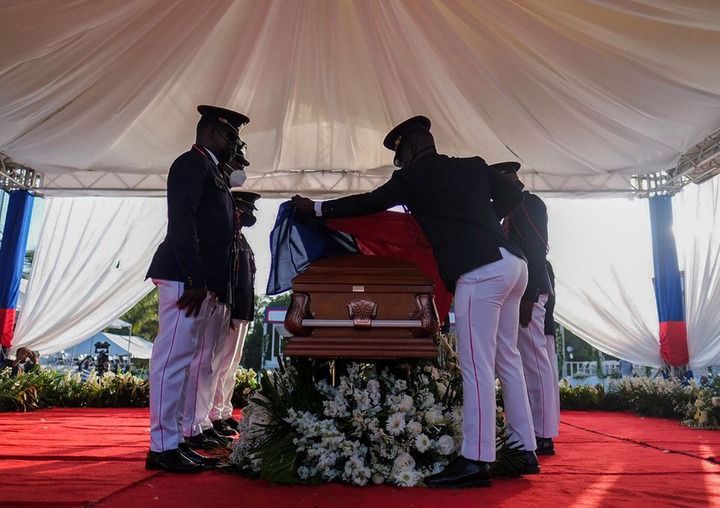 The bearers placed the polished casket on a dais garlanded with flowers in an auditorium. Four stood guard as a Roman Catholic priest blessed the coffin and a Haitian flag was unfurled.
Among those in attendance were Helen La Lime, special representative of the U.N. secretary-general for Haiti. Linda Thomas-Greenfield, the U.S. ambassador to the United Nations, is leading a delegation from the United States.
Ahead of the funeral, there was tension in Haiti's north, where Moïse was born as demonstrators set up roadblocks and demanded accountability for the president's death.
The Associated Press reported that one man appeared to have been shot dead Wednesday in Quartier-Morin, a commune outside Cap-Haïtien.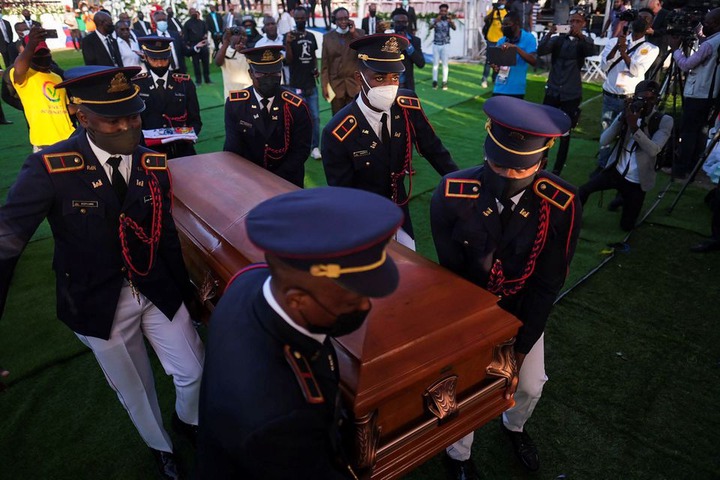 In the early hours of July 7, gunmen stormed into his home and shot him dead. Moïse's widow, Martine Moïse, also sustained injuries in the attack that killed her husband.
Police have arrested more than 20 people, including two Haitian Americans and several former Colombian soldiers, but the precise motive for the killing remains unclear.
The assassination also led to confusion about who would lead Haiti in the event of a president's death, with three politicians claiming they were the rightful leader. On Tuesday, Ariel Henry was sworn in as the country's new prime minister after interim prime minister Claude Joseph agreed to step aside.
Source: GhArticles.com 
SHOCKING: 18 Out Of 20 Gorillas Contract COVID-19 At The Atlanta Zoo
According to reports, officials in the State have confirmed that 18 of 20 gorillas at the Atlanta zoo have contracted COVID-19.
This comes a few days after employees reported their first case. Many gorillas had runny noses and were coughing with an appetite change.
Zoo officials let it be known that no evidence suggests animals can transmit the virus to humans despite humans being able to transmit it to gorillas. "While humans are known to be able to transmit the virus to animals such as gorillas, and these cases have occurred at other zoos, there is currently no data to suggest that zoo animals can transmit the virus to humans."
Officials continued, "Regardless, Zoo Atlanta visitors do not pose a transmission threat to the gorillas or vice versa given the distance between the areas used by guests and the animals' habitats,".
Sam Rivera, senior director of the Atlanta Zoo, stated there was concern because there is a strict protocol around COVID-19, but the gorillas were still affected.
"The infections occurred in an area of the Zoo where COVID safety protocols are already at their most stringent," Rivera said. "The use of PPE when working with great apes was already a standard practice at Zoo Atlanta due to their susceptibility to many of the same illnesses experienced by humans, including the common cold and influenza."
At this time, the Atlanta Zoo is "using monoclonal antibodies to treat the gorillas at risk of developing complications from the virus,".
What do you think about this?
We Will Love You To Join Our Over 150k Members Instagram Family With Just One Click @gharticles
Source: GhArticles.com
JUST IN: Dr. David Yonggi Cho Dies At Age 85
The founder of the world's largest megachurch, Pastor David Yonggi Cho is dead.
Yonggi Cho, who also known as Paul Yungi Cho, died in the early hours of Tuesday at age 85.
The popular cleric before his death was the founder of Yoido Full Gospel Church in Seoul, South Korea which has spread the gospel across the country.
According to CBN News, the cleric before his death had been receiving medical treatment for a brain hemorrhage he suffered from in 2020.
The founder of City Harvest Church, Kong Hee on Tuesday confirmed the death of David Yonggi Cho in a post on his Facebook account.
He wrote,  "At 7:13 am this morning, my pastor and spiritual father, Dr David Yonggi Cho (1936-2021), just went home to the presence of our Lord Jesus Christ. I love you, Dr Cho."
Yonggi Cho was born in 1936 to a Buddhist family and lived through the Korean War.
The cleric accepted Christ at 17 when doctors told him he would die from a serious case of tuberculosis. Cho credits God for his "miraculous" recovery from the disease.
Yonggi Cho started a church in Seoul two years after he graduated from Full Gospel College in 1956 which later turned into Yoido Full Gospel Church.
Yoido Full Gospel Church grew into one of the most popular megachurches in the world and boasts more than 750,000 members.
He has more than 500 church locations across South Korea and has sent thousands of missionaries to countries around the globe.
Clerics and notable personnel across the world have taken to their social media platforms to react to the development.
Cho's wife died in February this year. They are survived by their three sons.
We Will Love You To Join Our Over 160k Members Instagram Family With Just One Click @gharticles
Source: GhArticles.com
Man Sentenced To 5 Years In Prison For Spreading Covid-19 In Vietnam
A Vietnamese man has been sentenced to jail for five years for flouting Covid-19 rules and spreading the virus.
A court found Le Van Tri guilty of "transmitting dangerous infectious diseases" to eight people, one of whom eventually died.
Until recently Vietnam had been largely successful in keeping Covid out with tight restrictions.
But infections have surged since June, with an outbreak fuelled by the more contagious Delta variant.
The country has seen more than 530,000 cases with more than 13,300 deaths, many of which have occurred the last few months.
Many of those cases have been found in the capital Ho Chi Minh City.
In early July, Tri, 28, had reportedly travelled by motorcycle from Ho Chi Minh City to his home province Ca Mau in the south of the country.
At Ca Mau, Tri was found to have lied on a health declaration form which asked about his recent travel history, and also failed to comply with isolation rules.
Local authorities at the time had made it mandatory that anyone travelling from other provinces into Ca Mau had to immediately isolate themselves for 21 days.
Tri later tested positive for Covid, and was found to have transmitted the virus to members of his family as well as staff at a welfare centre which he visited.
Tri was sentenced to jail at the end of a one-day trial, and was also fined the equivalent of $880 (£630).
We Will Love You To Join Our Over 150k Members Instagram Family With Just One Click @gharticles
Source: GhArticles.com