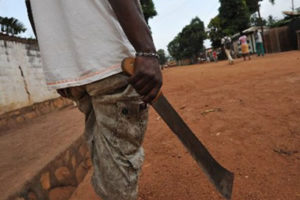 The entire Sege community is in mourning following the tragic murder of a three-year-old boy in the Ada West District of the Greater Accra Region. The alleged perpetrator, Obed Kabutey, who is the deceased child's nephew, stands accused of beheading the young victim, Holyfield, and concealing his lifeless body in his kitchen.
Reports indicate that Obed Kabutey, a 21-year-old welder, had visited his sister's home on Wednesday, September 6, 2023, with the intention of having a meal. During his visit, he took his three-year-old nephew to a nearby roadside to buy noodles for the child. However, neither Kabutey nor the child returned, leaving the boy's grandmother and mother deeply concerned.
In their search for the missing pair, the grandmother and mother eventually located Obed Kabutey, but to their horror, the child was nowhere to be found. Upon further questioning, Kabutey confessed to the gruesome act, admitting that he had beheaded the child and hidden the body within the confines of his kitchen.
Despite his chilling confession, Kabutey failed to provide a coherent motive for his brutal and senseless murder of his own nephew. Subsequently, the authorities have taken custody of the case, and it has been handed over to the police for a comprehensive investigation.