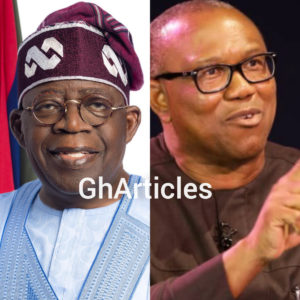 Following a six-hour deliberation, Peter Obi's Labour Party's appeal was declared meritless, with all his arguments, including fraud allegations, being dismissed. The decision on Atiku Abubakar's challenge from the Peoples Democratic Party is expected soon.
Despite the election dispute, Mr. Tinubu assumed office on May 29th. This election marked the fiercest contest since the end of military rule in 1999, featuring three strong candidates. Mr. Tinubu secured victory with 37% of the votes, while Mr. Abubakar received 29%, and Mr. Obi 25%.
The country had been tense leading up to Wednesday's ruling, prompting increased security in the capital, Abuja. Despite warnings against demonstrations, various political groups gathered outside the courthouse, engaging in songs and dances.
The ruling, coinciding with President Tinubu's 100th day in office, brought immense relief. He will now closely watch the Supreme Court, where his opponents may appeal, but the unanimous Appeal Court verdict bolsters his confidence. Notably, President Tinubu was absent from the country during Wednesday's ruling, as he was attending the G20 summit in India.
Lead justice Haruna Tsammani, who delivered the verdict, stated that the petitioners failed to substantiate allegations of corrupt practices and over-voting. He also noted that the petitioners did not specify the polling units where they claimed rigging occurred, lacked credible evidence for vote suppression in their strongholds, and clarified that electronic transmission of results was not obligatory. Additionally, he emphasized that the absence of real-time photographic copies of polling unit results did not invalidate the election.