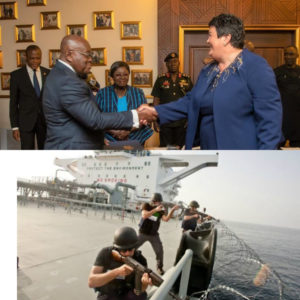 Over the weekend, an important milestone was achieved as President Akuffo Addo of Ghana and U.S. Ambassador Virginia Palmer came together to inaugurate two cutting-edge security ships stationed at the Sekondi Naval Command. This joint endeavor signifies a significant step forward in bolstering maritime security efforts within Ghana's territorial waters. The introduction of these advanced vessels represents a crucial move to safeguard the nation's maritime interests, counter illegal activities at sea, and ensure the safety of both Ghana's maritime resources and international shipping routes passing through its waters.
These new security ships are equipped with state-of-the-art technology and capabilities, enhancing the country's ability to monitor and respond to potential threats effectively. They will play a pivotal role in deterring piracy, illegal fishing, and other illicit maritime activities that have posed challenges in the region. Furthermore, this collaboration between Ghana and the United States underscores the importance of international partnerships in addressing global security concerns, with both nations working together to promote stability and prosperity in the maritime domain.
The commissioning of these security ships at the Sekondi Naval Command represents a tangible commitment to maritime security and underscores the dedication of Ghana and the United States to safeguarding the vital waterways that are essential for trade, economic development, and regional stability. This initiative is a testament to the importance of proactive security measures in an increasingly interconnected world, where maritime security remains a critical concern for nations and the global community at large.