I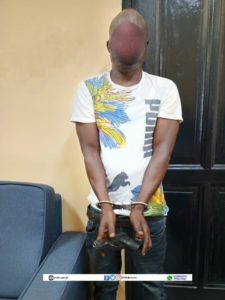 In Bogoso, within the Western Region, the police have apprehended two individuals suspected of robbing a mining company in the area. Derrick Kwabena and Daniel Ofori, also known as Denotobe, together with six others who are currently evading capture, carried out an attack on the mining company, even targeting police officers stationed at the site.
The swift response from law enforcement resulted in the immediate arrest of Derrick Kwabena, while the other associates managed to escape. Subsequent investigations led to the apprehension of Daniel Ofori, who was found waiting in a Toyota Hilux pickup vehicle intended for the remaining fugitives and the stolen loot.
Among the confiscated items were a quantity of gold concentrate concealed in a fertilizer sack, a pistol, a machete, five BB cartridges, a Toyota Hilux pickup with registration No. GN 3020-17, and various talismans. Both suspects are now in police custody, and ongoing efforts are being made to apprehend the remaining culprits to ensure they face justice.