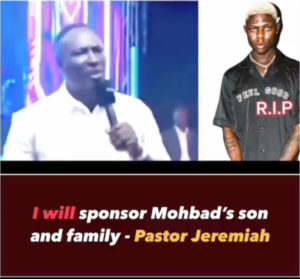 Nigerian Pastor Jeremiah Omoto Fufeyin has made a heartfelt commitment to provide support and care for the family of the late Mohbad, who tragically passed away at the young age of 27. During one of his sermons at the church, Pastor Fufeyin publicly pledged to take on the responsibility of looking after Mohbad's son and extended family members.
Furthermore, Pastor Fufeyin expressed a strong determination to ensure that justice is served in Mohbad's case. This declaration underscores his dedication to not only providing financial and emotional support to the grieving family but also to advocate for the proper investigation and resolution of any issues surrounding Mohbad's untimely demise.
In a touching display of compassion and community solidarity, Pastor Fufeyin's words are not just words; they represent a genuine commitment to making a positive impact in the lives of those affected by this unfortunate tragedy. His actions exemplify the importance of empathy and support within communities during times of distress.