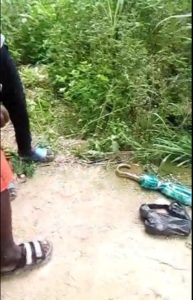 Residents of Anwiankwanta in the Ashanti Region have been plunged into a profound sense of horror and despair following the distressing revelation of a tragic incident. This heart-wrenching event unfolded when the lifeless body of an 18-year-old apprentice named Georgina Agyemang was unearthed. Georgina's harrowing ordeal began innocently enough as she accepted a seemingly benign offer of a ride from a group of men in a vehicle, who had kindly offered to transport her back home.
Tragically, this seemingly generous act took a sinister and heinous turn. Georgina Agyemang's life was brutally extinguished through an alleged gang rape and murder.
Thishorrifying incident has not only shocked the tight-knit community of Anwiankwanta but has also sent shockwaves of outrage and sorrow throughout the entire region. It serves as a grim reminder of the urgent need for greater awareness, vigilance, and action to combat the scourge of violence against women in our society.