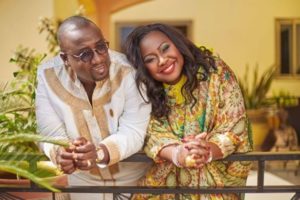 Oheneyere Gifty Anti, renowned media personality, has expressed sadness over the magnitude of the attacks she has faced as a result of rumours about her alleged failed marriage.
Earlier news of Gifty Anti and her husband, Nana Ansah Kwao II's alleged separation circulated on social media.
The popular media personality took to Facebook to respond.
Gifty Anti refuted the claims in the comments section of one of her Facebook posts, implying that she is still in a happy marriage.
She later clarified the situation in an interview with Joy Prime.
During the conversation leading up to the publication of her book 'When Strong Women Cry', the host asked, "Are you separated? Did you throw your husband out of the house?"
Gifty Anti responded, laughing aloud, "Should I call him for you? We have decided to talk at the appropriate time. It's not the first time this had happened and obviously, I am the target. The people talking about me do not know me. They don't know anything about me. So, what should I do? Go round telling everybody about it? I stay focused because these things can derail me. I am hurt, and disappointed".
However, she stated that despite the constant persecution for being a feminist, she often reminds herself that these challenges are part of the journey.
"It is difficult to really speak your truth these days, especially with all the attacks going on and because you are a strong woman and a feminist. This journey we are on, if you are not careful, you will be fighting and saving the world whiles you will be in a mess.
"In my book, there is a story of a woman who is saving the world but meanwhile there is pain. This woman became diagnosed with depression because she was out there saving people," she added.
Source: Gharticles.com
join our over 1.4 million followers instagram community by clicking here –> GH ARTICLES