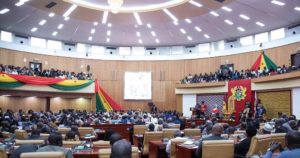 A $200 million loan agreement between government and the World Bank has been approved by parliament to fund the Ghana Digital Acceleration Project.
The goal of the project is to assist the Ghanaian government in improving broadband access, the effectiveness and calibre of a few digital public services, and the country's ecosystem for digital innovation in order to foster better job and economic opportunities.
The Ghana Digital Acceleration Project, which has been approved, will support a regulatory shift to create an enabling environment for digital inclusion and innovation; streamline governance and public service delivery; and facilitate smallholder participation in data-driven digital agriculture.
The House also authorised $150 million in funding for the West Africa Food System Resilience Programme phase 2 under the Multi-phase programmatic approach.
It also approved a $60.6 million loan agreement as the third Additional Financing for the Ghana Covid-19 Emergency Preparedness and Response Project.
Parliament also approved a £170 million Euro on-lending agreement between the government and the Development Bank Ghana to support the establishment of a financially sustainable development bank.
A $150 million World Bank facility to finance the primary healthcare investment project and another $150 million to finance the Public Financial Management for Service Delivery Programme are among the loan agreements approved.
Source: Gharticles.com
join our over 1.4 million followers instagram community by clicking here –> GH ARTICLES