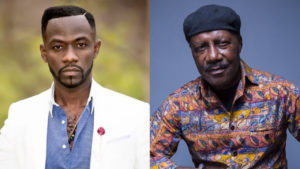 Popular musician, Okyeame Kwame has won a defamation lawsuit filed against Gyedu-Blay Ambolley, a veteran Ghanaian musician.
Following an arbitration process that was later adopted by the courts as a consent judgement on March 23, 2023, Gyedu Blay Ambolley issued an apology retracting his defamatory comments against Okyeame Kwame as part of the settlement.
In a post shared on LinkedIn weeks ago, Gyedu Blay Amolly wrote;
"In the course of an interview on 3FM on the 22nd of February 2020 concerning the use of some funds donated by the Government of Ghana to the Musicians Association of Ghana (MUSIGHA), I was mistaken concerning some of the details of the matter, particularly with respect to my colleague musician and MUSIGHA member Kwame Nsiah Apau also known as Okyeame Kwame and I wish to correct and clarify those facts as follows:
"Obour did not give Okyeame Kwame a personal loan from MUSIGHA funds. To support artists and enable them access to loans, MUSIGHA entered an arrangement with Midland Bank and provided security/collateral for the arrangement. Okyeame Kwame only took advantage of the initiative and applied for a loan from Midland Bank which he was given. He has informed me that he has since paid back the bank in full.
"To the extent that my earlier statements may have affected the reputation of Okyeame Kwame, I apologize and state that the errors in my statements were not made maliciously."
Source: Gharticles.com
join our over 1.4 million followers instagram community by clicking here –> GH ARTICLES