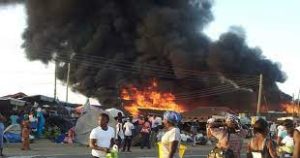 Ashaiman Market experienced a devastating fire on September 10, resulting in extensive damage to more than 40 shops. Thankfully, there were no reported casualties in this unfortunate incident. The brave efforts of the Ghana National Fire Service (GNFS) were crucial in battling the raging flames, which presented a formidable challenge.
As of now, the precise cause of the fire remains a mystery, adding an extra layer of complexity to the situation. Investigations will likely be carried out to determine the origin of the fire and whether any preventive measures can be put in place to avoid such incidents in the future.
In response to the emergency, the Electricity Company of Ghana (ECG) took precautionary measures by disconnecting power to the affected area. This action is taken to minimize potential electrical hazards that might have contributed to the fire or could pose risks during the firefighting efforts and subsequent investigations.
The incident underscores the importance of fire safety and disaster preparedness in public spaces like markets. It is essential to implement and adhere to safety protocols to prevent such unfortunate events and minimize their impact when they do occur. Local authorities and the community should work together to support the affected shop owners and help them rebuild their businesses.