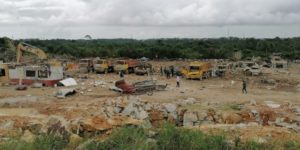 The Western Regional Security Council (WSRC) has formed a 9-member committee tasked with investigating the tragic explosion that occurred at the Kobina-Andokrom quarry in the Shama District of the Western Region. This explosion resulted in the loss of five lives and caused damage to several houses in the Anto-Aboso area. The quarry site was being operated by a Chinese company that had not completed the necessary procedures to operate legally. It was reported that the company was storing ammonium nitrate on the site for its operations.
Chaired by the Western Regional Minister, Kwabena Okyere Darko Mensah, the committee includes representatives from various agencies, such as the Mineral Commission, the Ghana National Fire Service, the Ghana Police Service, the Ghana Health Service, NADMO Shama, the Works Engineer, and the Assembly member of the affected area. The committee's primary objective is to investigate the cause of the explosion, assess the adherence to safety guidelines and licensing by the company, and identify any potential factors contributing to the incident.
The committee has been granted a three-week timeframe to complete its investigation and present its findings and recommendations. The probe aims to shed light on the circumstances surrounding the explosion and evaluate safety practices within the quarry industry to prevent similar incidents in the future.