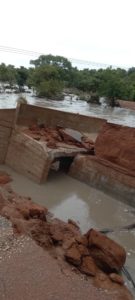 Bavung Adams, the Municipal Director of West Gonja NADMO, has issued a warning to travelers in the Savannah Region due to flooding that has made some roads inaccessible. He advised passengers not to use canoes in these areas and instead recommended taking alternate routes, particularly through Domango, despite the potential higher cost. Adams emphasized that fixing the roads is currently too risky due to the high water levels, and they must wait for the water to recede before bringing in a contractor.
The Bamboi-Wa Highway is severely affected by heavy rains, especially the Bole-Sawla section, which is the crucial link between the southern and Upper West regions. A bridge connecting Bole and Doli Communities has been washed away, rendering it impassable. The Ministry of Roads and Highways has been notified of the situation.
The Ghana Highway Authority conducted preliminary investigations and believes a broken dam contributed significantly to the road damage. They have provided alternative routes for motorists and advised caution during travel. They are actively working to address the issue and ensure safety and normal traffic flow.