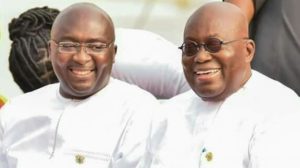 In his 2023 May Day speech, President Nana Addo Dankwa Akufo-Addo explained why Vice President Mahamudu Bawumia was missing the event for the first time since 2017.
He stated at the start of his speech that Bawumia remained in Accra to perform an equally important task of welcoming a high-ranking dignitary, the visiting Japanese Prime Minister.
"The vice President, who has always been present at May Day celebrations since 2017, has asked me to convey his apologies to you for not being able to make it today.
"He is welcoming the Prime Minister of one of Ghana's most important partners, Japan, who is arriving this morning in Accra for a two-day official visit. He is the second Japanese Prime Minister ever to visit our country.
"God willing, next year, the Vice President will be with us again on May Day," the president said.
Fumio Kishida, Prime Minister of Japan, arrived in Ghana on May 1 for a two-day state visit.
The Japanese Prime Minister is scheduled to meet with President Nana Addo Dankwa Akufo-Addo at Jubilee House.
The Asian country wishes to strengthen its economic ties and promote business and investment relations with Ghana, one of West Africa's leading economic centres.
Source: Gharticles.com
join our over 1.4 million followers instagram community by clicking here –> GH ARTICLES