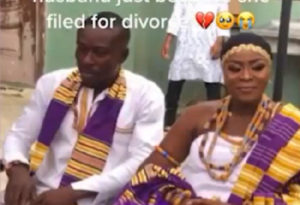 An unidentified man has killed his wife and inflicted cutlass wounds on his father-in-law according to local media UTV.
A witness to the marriage described the man as a wife beater who begged the deceased to return to her matrimonial home whenever the husband's actions caused her to leave.
"I was the linguist at their marriage and I have known all the issues that plagued their union," the witness told reporters stressing that it was unfortunate the role that some clergymen played in begging her each time to return to the abusive husband.
Wailing relatives and friends gathered at the lady's home in Nungua to mourn her death.
Speaking at the home, Pastor Boafo of Calvary Baptist lamented the death and the circumstances surrounding it before urging the government to ensure that justice is served.
"Things are getting worse. The nation must speak. Young people have been left to be committing crime. I beg the nation not to coverup the issues.
"He committed the crime in front of people I know personally, this is not heresy. We beg the government to take action and deliver justice."
According to some accounts, he killed his wife and committed suicide because she insisted on a divorce.
UTV report below:
Source: Gharticles.com
join our over 1.4 million followers instagram community by clicking here –> GH ARTICLES