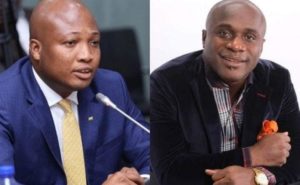 An Accra High court has dismissed a contempt case against North Tongu MP Okudzeto Ablakwa, dismissing contempt charges brought against him by Rev. Victor Kusi Boateng, Secretary to the National Cathedral Board of Trustees. Following that, Rev. Victor Kusi Boateng was fined GHC10,000.
The Court said the evidence presented by Rev. Victor Kusi Boateng was fraught with inconsistencies and doubt. It therefore failed to meet the legal standard of proof beyond reasonable doubt.
The charges were filed after video footage showed the legislator rejecting court documents related to a defamation suit filed against him, kicking the documents with his foot in the process.
Rev. Kusi Boateng had sued Ablakwa for publishing statements implying a conflict of interest and double identity because he allegedly operated under another name, Kwabena Adu Gyamfi.
The court, however, dismissed the contempt charges because the bailiff who served the documents had not been certified by the judicial service.
According to the Judge's verdict, the Chief Justice issued a directive in 2021 requiring only members of the Judicial Service to serve writs. The court, however, noted that the alleged bailiff was not a Judicial Service employee, and thus the process could not be considered valid.
Moreover, the case was dismissed on the grounds that the alleged bailiff did not follow the prescribed procedures for serving a member of parliament who was either engaged in parliamentary duties or en route to the parliament on February 3, 2023, when the incident occurred, as claimed by Samuel Okudzeto Ablakwa.
The Judge noted during the ruling that the applicants had failed to provide convincing evidence to support the contempt charge because there were discrepancies in the facts presented before the court.
Source: Gharticles.com
join our over 1.4 million followers instagram community by clicking here –> GH ARTICLES