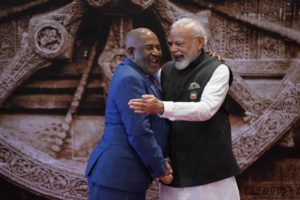 The African Union (AU) has achieved permanent membership in the G20, a significant development announced during the summit in Delhi by Indian Prime Minister Narendra Modi. Represented by its chair, Azali Assoumani, the AU now holds a permanent seat among G20 leaders, elevating it to the same status as the European Union, which was previously the only regional bloc with full membership. This transformation from its previous status as an "invited international organization" was widely embraced by African leaders, who see it as a means to amplify their continent's voice on the global stage.
Until recently, South Africa stood as the sole African nation in the G20. The addition of the AU was warmly received across the continent, with Kenyan President William Ruto expressing his approval on X, highlighting the potential for increased African visibility, influence, and representation. Ruto stressed that as Africa continues to grow, having a seat in the G20 will enable the continent to shape decisions that advance its interests, including critical matters such as reforms in international financial institutions and multilateral development banks.
Moussa Faki Mahamat, the head of the AU Commission, emphasized that this long-advocated membership would empower Africa to make a more effective contribution in addressing global challenges. He underscored the significance of this development, stating that it provides a propitious framework for advocating on behalf of the continent and enhancing its contribution to global problem-solving.
With the AU comprising 55 member states (although with six junta-ruled nations currently suspended), boasting a collective GDP of $3 trillion (£2.4 trillion), and a population of 1.4 billion people, this move represents a historic shift in the dynamics of international cooperation. African leaders like South Africa's President Cyril Ramaphosa and Nigeria's President Bola Ahmed Tinubu expressed their optimism about the AU's enhanced role within the G20, emphasizing the importance of collective action and financial resources to address global issues and advance sustainable development goals.