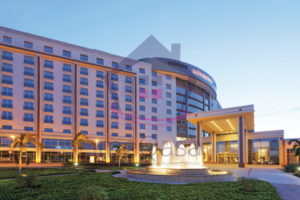 In a heartfelt tribute to commemorate the life of the late Ga Manye, the Paramount Queen of Ga State, HRM Naa Dedei Omaedru III, the Central Business District (CBD) of Greater Accra will observe a temporary closure of businesses for three days, spanning from October 27th to the 29th. This closure is a collective gesture of respect and mourning for the revered royal figure, allowing the community to come together in grief. Lady Justice Naa-Yarlay Adjei Amoah, Chief of Staff at the office of the Ga Mantse, made the announcement and urged businesses in the district not only to remain closed but also to decorate their premises with black and red drapery, reflecting the somber occasion.
The Central Funeral Planning Committee of the late Ga Manye emphasized the importance of this gesture, extending beyond the palace, and called on all to cooperate in this time of sorrow. The Jospong Group of Companies also expressed their support by presenting a collection of items to the Ga Traditional Council, including beverages, cash donations, and promises of sanitation support. Zoomlion Ghana Ltd., a subsidiary of the Jospong Group, pledged to ensure cleanliness during and after the funeral ceremony, receiving commendation from Nii Ahene Nunoo III, who also extended prayers for the Executive Chairman of the Group.
The final funeral rites for the late Ga Manye, who passed away in December of the previous year, are scheduled to take place from October 15th to 31st, 2023, in a poignant demonstration of the community's love and respect for their Paramount Queen.