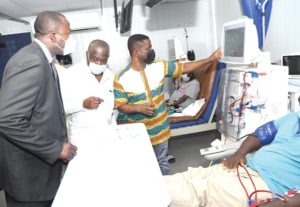 The National Health Insurance Authority (NHIA) has commenced procedures to incorporate the cost of dialysis for kidney patients within the Health Insurance Scheme. The initiative, currently underway through NHIA's regional offices, involves gathering data from teaching hospitals where dialysis procedures are performed, aimed at evaluating feasibility for further steps.
Mr. Fred Appiah, the NHIA's Central Regional Director, revealed in an interview with the Ghana News Agency that this move was prompted by appeals and concerns from kidney patients across the nation. He highlighted this development during a blood donation event organized as part of the Authority's 20th Anniversary celebration, emphasizing its role in alleviating blood shortages at various blood banks and preventing avoidable fatalities.
The NHIA has already submitted data collected from the Cape Coast Teaching Hospital (CCTH) to its Head Office. Mr. Appiah expressed confidence that upon completion of the data collection process, there would be positive news regarding the potential inclusion of dialysis in the health insurance package.
Acknowledging the recent public outcry over the cost and accessibility of dialysis in Ghana, particularly after attempts by the Korle Bu Teaching Hospital (KBTH) to increase dialysis costs, Mr. Appiah stressed that the ongoing assessment would determine whether the NHIA would cover the entire or partial cost of treatment.
He noted that the NHIS currently covers approximately 95% of diseases in Ghana, encompassing over 540 medicines, and emphasized the need to expand the NHIA's resource base to include more medical conditions. Regarding a potential increase in premiums to accommodate kidney treatment, Mr. Appiah suggested that while such a hike might be necessary, it would still not suffice due to the limited contribution of premiums from the informal sector.
Instead, he advocated for increased government funding to the NHIA to achieve a sustainable health insurance system. Mr. Appiah highlighted the importance of receiving adequate taxes and insurance-related contributions to effectively cater to various healthcare packages.
Source: GNA