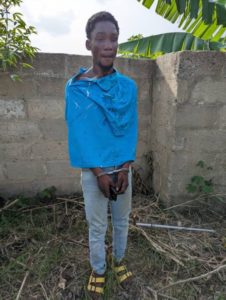 In recent developments, the Ghana Police Service has apprehended an individual self-identified as 'Demon,' a purported member of the notorious Apatuogya gang, after a video surfaced online where he and an associate confessed to criminal activities. The viral footage, circulated a few days prior, showcased 'Demon' and his companion openly declaring themselves as armed robbers, issuing threats of trouble to anyone they encountered.
The video, in the era of technological advancements and Ghana card integration, depicted the alleged perpetrators boasting about their criminal status, proclaiming 'Demon' as their moniker. They brazenly displayed  small knives while making menacing claims of their capabilities.
Acting swiftly on the viral video, the Ghana Police Service launched an investigation leading to the subsequent arrest of the individual identified as 'Demon". This arrest follows public concern and fear sparked by the video's circulation, amplifying the urgency of law enforcement actions.