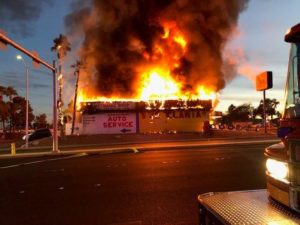 A fire has ravaged numerous stores at CMB, situated behind Kantamanto in Accra, causing extensive damage to goods valued at millions of Ghana cedis.
The cause of the fire, which occurred approximately at 5:00 am on Sunday, is currently unknown. Firefighters from the Ghana National Fire Service (GNFS) were swiftly dispatched to the location, but the fire had already spread to several stores before their arrival.
Alex Nartey, a Public Relations Officer of the GNFS, reported the discovery of various flammable items at the fire scene.
When the fire was finally extinguished, a considerable number of stores had been completely obliterated. Many traders in the market expressed their frustration and disappointment, revealing significant losses.
The GNFS is offering advice to traders to exercise caution when using electrical appliances and to refrain from storing combustible materials within their stores.
This marks the second major fire incident at the CMB market in recent years. In 2020, a fire demolished more than 200 stores in the market.