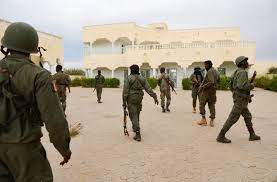 In northern Mali, two separate attacks by Islamist militants have left a tragic toll of casualties. The assaults targeted a passenger ferry and a military camp, resulting in the loss of at least 49 civilians and 15 soldiers. The government reported that approximately 50 assailants were killed by the army in response to the attacks, which were carried out by an Al Qaeda affiliate. These events reflect a disturbing trend as Islamist groups continue to exert control over northern Mali, including the imposition of a blockade on the historic city of Timbuktu, causing the displacement of over 33,000 people since mid-August, as per the United Nations.
Security in northern Mali has been deteriorating since last year when the country's military ousted a French military mission. In June, the United Nations peacekeeping operation, consisting of 13,000 personnel, was abruptly ordered to leave Mali by the end of the year. As a consequence, insurgents have intensified their actions, including blockades in the Timbuktu region, drawing comparisons to the conflict in 2012 when an Islamist group took control of Timbuktu and imposed Shariah law. Mali's junta has also partnered with the Russian private paramilitary group Wagner, resulting in increased civilian casualties since early 2022.
Recently, Wagner, previously led by Yevgeny V. Prigozhin, faced turmoil with a mutiny in Russia, and Prigozhin's death in a plane crash last month. In a potential bid to regain control over Wagner's activities, a delegation of Russian defense officials visited Mali and met with the country's military leaders. This development has raised concerns among Western diplomats about the Kremlin's intentions in the region. The Malian government has declared three days of national mourning in the wake of these devastating attacks.