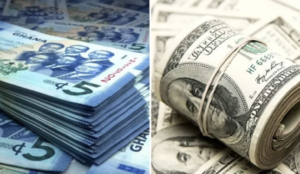 In its 2023 Country Report on Ghana, the UK-based Economist Intelligence Unit (EIU) has predicted a 30% depreciation of the cedi to the dollar, which is lower than the estimated 44% depreciation of the local currency in 2022 but still a significant decline from current levels.
"We now expect the currency to weaken to ¢12.46:US$1 at end­ 2023 (from ¢10.95:US$1 as at mid­-April)."
According to the report, the rising demand for hard currency brought on by high import costs, inflation, capital flight, an increase in profit repatriation by multinational corporations with operations in Ghana, and a lacklustre investor sentiment due to the ongoing debt crisis will cause the cedi to depreciate.
However, sustained fiscal and monetary tightening and the anticipated Executive Board approval of an IMF programme by mid-2023 will slow the cedi's relative decline over the second half of the year.
"We expect further gradual depreciation in 2024-2027, to ¢14.70: US$1 at end 2027, but at a much slower pace than in 2022-2023 as debt-restructuring uncertainties abate. Ghana's sustained depreciation reflects the country's structural current-account deficit and higher inflation than its trading partners," it added.
It concluded that reserves will average 3.3 months of import cover from 2023 to 2027, just above the internationally regarded prudential minimum of three months.
The cedi started trading on the forex or retail market on May 2, 2023, at ¢12.10 pesewas to the dollar.
Source: Gharticles.com
join our over 1.4 million followers instagram community by clicking here –> GH ARTICLES