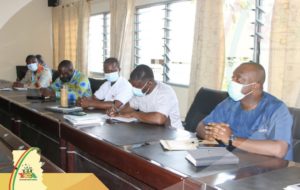 In a bid to combat Ghana's persistent issue of youth unemployment, the Youth Employment Agency (YEA) has initiated a program aiming to create a minimum of twenty thousand sustainable jobs within two years. Recognizing the long-standing challenge of high youth unemployment being a threat to national security, this move is seen as a crucial step to address the issue.
The YEA has rolled out its Artisanal Trades and Vocation Module, designed to provide employment opportunities for Ghanaian youth. Collaborating with private sector entities under a public-private partnership arrangement, the agency aims to offer training and job opportunities in various trades and vocations such as brick molding and laying with BRRI, business support programs, and agriculture-related vocations.
This initiative targets the comprehensive training and provision of startup tools to 20,000 unemployed or underemployed youth across Ghana in ten relevant trades and vocations by the end of 2024. The beneficiaries will undergo six months of technical training followed by support in entrepreneurship and business management to prepare them for self-employment.
Notably, a significant portion of these opportunities will be dedicated to young women, aiming to uplift affirmative action principles and promote female participation in entrepreneurship within their respective regions.
Moreover, the program doesn't stop at providing training and tools; it also focuses on assisting the beneficiaries in accessing local and international markets for their products and services. This, in turn, aims to showcase Ghana's technical expertise globally, boost tourism, and attract foreign exchange.
The YEA emphasizes that the program's foundation lies in providing technical training, nurturing entrepreneurship, and equipping the youth with startup tools and equipment to pave the way for self-employment opportunities.
To facilitate the success of this initiative, the YEA plans to establish an online database of qualified African Industrial African Solution artisans.
Interested applicants can access the registration portal through the official website www.yea.gov.gh or apply.yea.gov.gh, as well as the agency's official social media platforms.