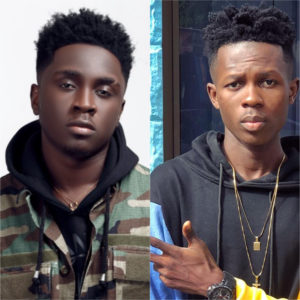 Ghana's hip-hop arena is once again in the spotlight as Kweku Smoke takes a shot at fellow rapper Strongman in his latest track, 'Comfortable Lead.'
The rivalry between the two artists has been reignited, with Kweku Smoke's new diss track marking the second time he's aimed his lyrics at Strongman, sparking widespread attention across the industry.
In this escalating war of words, both rappers are exchanging harsh verses, each striving for dominance in the rap game.
In 'Comfortable Lead,' Kweku Smoke didn't hold back, dragging Strongman's wife, Nana Ama Strong, into the conflict, intensifying the heated exchange. The track included controversial comments about her, adding more intensity to the feud.
Taking it further, Kweku Smoke also targeted Strongman's daughter, Simona, making derogatory remarks about her appearance and raising doubts about her parentage. Smoke provocatively suggested a DNA test, hinting at potential involvement from others.
A particularly cutting blow came when Kweku Smoke advised Strongman to halt his boasting about financial success. He dismissed Strongman's claimed Ghc200K, suggesting it was merely enough for a year's rent in Accra.
This isn't the first clash between the two. Kweku Smoke's initial diss track, 'Ogyam,' provoked Strongman to respond with 'Short Man.' The ongoing feud has captivated fans and insiders, all eagerly awaiting Strongman's comeback in response to 'Comfortable Lead.'