Twitter Users Mock Barcelona Following Messi's Departure
Six times Ballon d'Or winner, Lionel Messi has left his boyhood club, Barcelona after both parties failed to agree a new contract terms.
Lionel Messi and FC Barcelona weren't able to solidify a new contract, which means the star forward won't re-sign with the club, according to an official statement.
The football club via their website had the following announcement to make following the news that broke:
Despite the club and Lionel Messi having reached an agreement and the clear intention of both parties to sign a new contract today, this cannot happen because of financial and structural obstacles (Spanish Liga regulations).
READ ALSO: BREAKING: Lionel Messi Quits Barcelona
FC Barcelona wholeheartedly expresses its gratitude to the player for his contribution to the aggrandizement of the club and wishes him all the very best for the future in his personal and professional life.
Whiles Barca fans are lamenting on Messi's departure, other fans making fun of the whole story on Twitter.
On Twitter trends, Messi is trending with 1.68m tweets as many Twitter users are having the last laugh.
See some of the reactions below;
Man City and PSG lawyers fighting outside Messi's house rn pic.twitter.com/Ua0ymImenh

— TF (@TF_898) August 5, 2021
The El- Classico really went from Messi and Ronaldo to Vinicius Jr and Dembele😭 pic.twitter.com/ryi6wG6QpF

— Aiden (@AidenUtd_) August 5, 2021
Man City gave Grealish the #10 shirt the day Messi leaves Barcelona 🥲😂 pic.twitter.com/UaYM7mXO9Z

— B.O.B 👻🌟 (@bob_tuga) August 5, 2021
This particular pic made us aware that Leo Messi will leave 😂😂😂😂😂 pic.twitter.com/hwWMTQiEeI

— Kojo Darko😌 (@Joeybneba) August 5, 2021
that moment fcb submitted the new contract

Messi : pic.twitter.com/Sfh3vcSYSz

— ᵀᵉˡᵉᵗᵘᵇᵇʸ•🇬🇭 (@teletubby__) August 5, 2021
Messi reading texts from Aguero after he made him join Barca pic.twitter.com/t9xnDtrKkz

— Mattia 🏆 (@MattiaCFC) August 5, 2021
Barcelona fans waiting for Messi to say the news about him leaving the team is fake news😭😭😂😂😂 pic.twitter.com/crp7IBkfNw

— Beck😈 (@The_Phynest) August 5, 2021
This is worse than a breakup… Lionel Messi 😭😭😭 pic.twitter.com/xd3bcivqwN

— Mayowa olagunju ❁ (@iam_doctormayor) August 5, 2021
Camp Nou now that Messi is gone 🤣🤣🤣🤣🤣 pic.twitter.com/Pt3niF8FNm

— Champions League Varane 🤍 (@darth_zidane) August 5, 2021
Manchester City representatives returning Jack Grealish to Aston Villa after hearing Lionel Messi has rejected a new contract at Barcelona
pic.twitter.com/pA9SXHGlcb

— Dami Lola🥶 (@awedavid_) August 5, 2021
Source: GhArticles.com

Nigerians Troll Ghanaians After AFCON Loss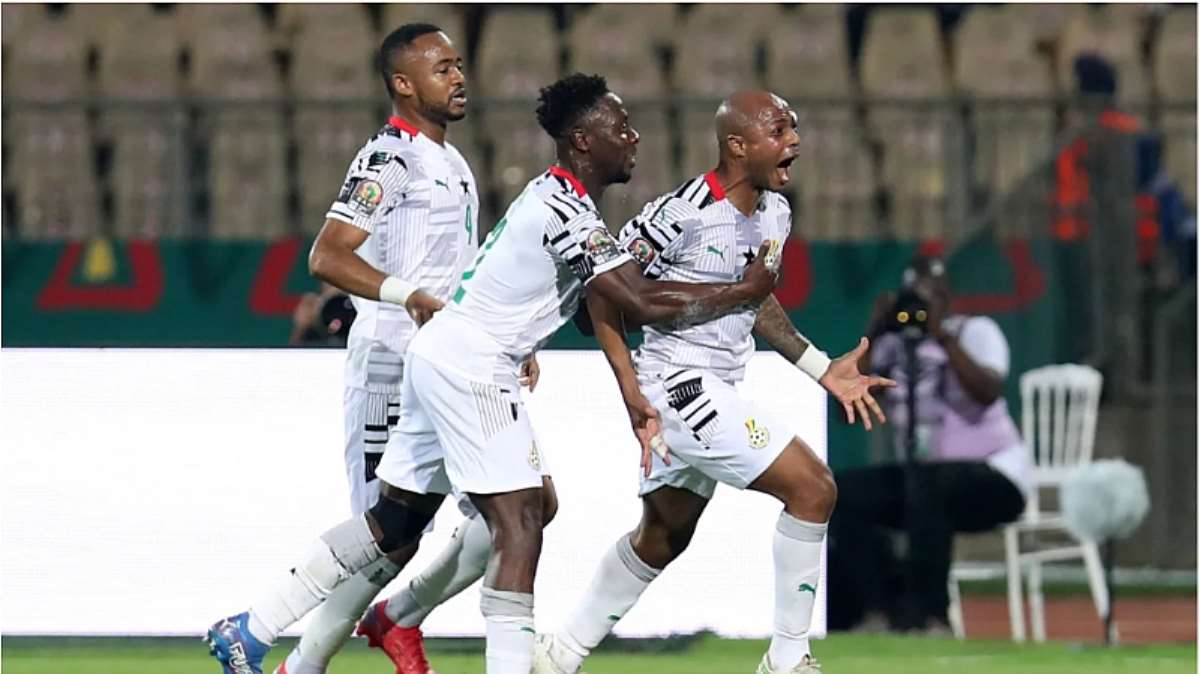 The Ghana Black Stars lost their fate deciding match to new comers, Comoros in the group stages.
After 90 minutes of play, the scoreline was; Ghana -2, Comoros – 3.
Skipper Andre Ayew was given a red-card, leaving a 10-man side for Ghana for most part of the game.
Celebrating Ghana's loss, Nigerians have taken to Twitter to troll Ghanaians.
Here are some tweets:
We Ghanians are here to win the #AFCON2021
Comoros pic.twitter.com/CcHNcnrVZa

— Habibi💯 (@Habibi_doc) January 18, 2022
Someone said Ghanians Accra ing right now 😂😂 pic.twitter.com/AFecZmcbeD

— MO'ses mac 🇳🇬🦅 (@MacOfEdo) January 18, 2022
even tho Ghana didnt CEDIS coming they are GHANA go home and PARTEY after PARTEY with asamoah gyan and ghanians while south Africans sing karma is a bitch😂 pic.twitter.com/rUdc2gk4sE

— Tobi Ayangbile (@Temzysleek) January 18, 2022
Ghanians when they realize Nigerians are waiting on twitter 😂🤣
#AFCON2021 pic.twitter.com/bMiA4pQ1de

— copyNinja 💊 (@1tzkelvin) January 18, 2022
I'm sure Ghanians are Ghana Accra when they cedis😂😂😂 @shattawalegh wale go talk say nah because Nigerians no watch our match the way we watch theirs make us loose😂😂 https://t.co/95iQyG5Cvp

— Ezeaku Chimaroke Stanley (@ChimarokeEzeaku) January 18, 2022
Ghanians on twitter right now!!!¡

🤣🤣🤣🤣 pic.twitter.com/859IOy9g7q

— OnwaNnewi (@Kene_Nnewi) January 18, 2022
We Will Love You To Join Our Over 180k Members Instagram Family With Just One Click @gharticles
Source: GhArticles.com
BREAKING: Machomen Engaged On Nima Street F!ght As Gunshots Are Fired In Viral Videos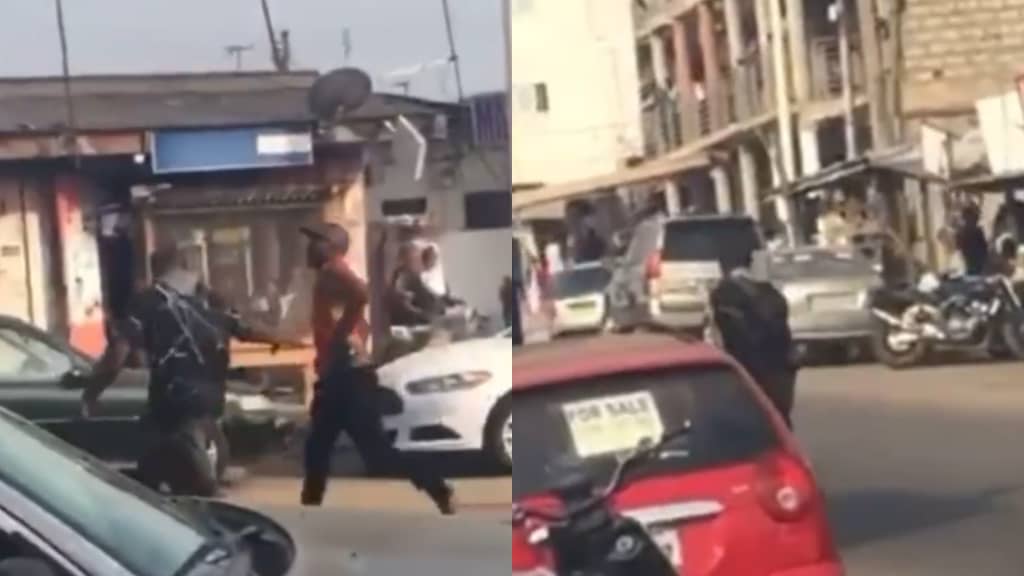 A fast trending video making rounds on social media captures the moment some young machomen engaged in a street fight.
In the video sighted by GhArticles.com, the macho men were seen chasing after another group believed to be the one they are fighting while holding machete and guns.
One of them run ahead to shoot at his enemies while standing in the middle of the road.
The video was taken by an eyewitness, the people were heard screaming as the young man fired the gun twice.
The incident happened at Nima-Mamobi, a suburb in Accra.
In another video, the Nima Police have rushed to the scene to restore calm and arrest the culprits.
Watch the video below;
View this post on Instagram
View this post on Instagram
We Will Love You To Join Our Over 180k Members Instagram Family With Just One Click @gharticles
Source: GhArticles.com
Social Media Celebrates Pure Water Seller Who Was Captured Sharing Money To Prison Inmates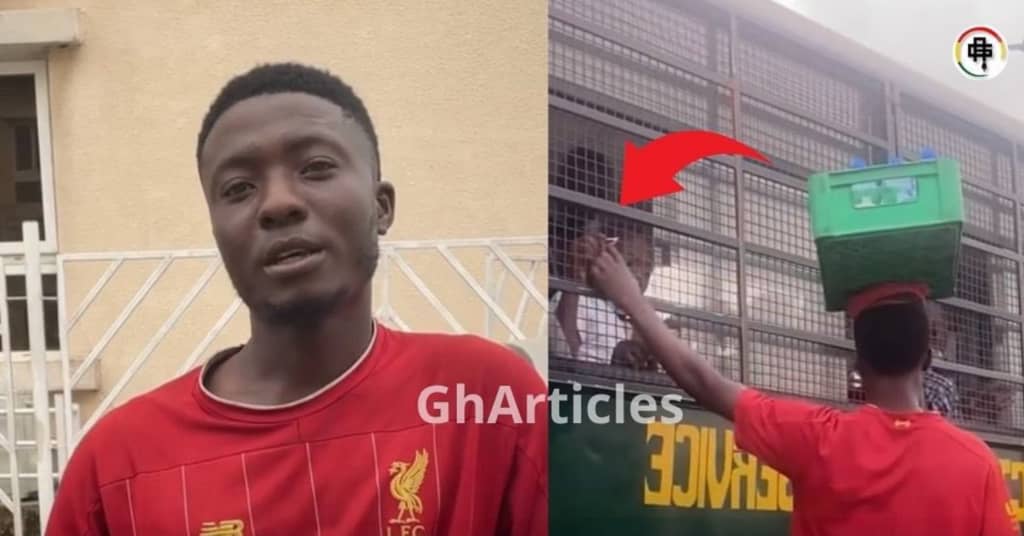 A pure water seller has won the heart of many on social media following a kind gesture he showed towards some prison inmates.
In the video available to GhArticles.com, the pure water seller was seen dashing money to prison inmates who were stuck in traffic.
In an interview, he said he was inspired by his daily struggles to make money on the streets compare them being in prison without the freedom and liberty to live their lives.
According to him, he has freedom to sleep and eat whatever he desires but those in prison don't have their liberty to do so.
Watch the video below;
We Will Love You To Join Our Over 180k Members Instagram Family With Just One Click @gharticles
Source: GhArticles.com