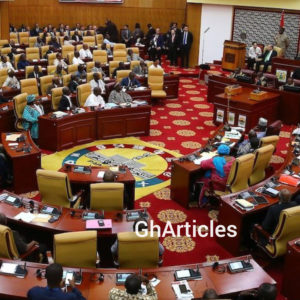 Nii Aryee Opare, the spokesperson for the Economic Fighters League (EFL), has strongly criticized the Minority's decision to occupy the Bank of Ghana (BoG) in an attempt to force the resignation of Dr. Ernest Addison, the BoG Governor. Opare considers this action to be morally reprehensible. He further asserts that Parliament's recent actions have provided ample justification for its dissolution as a legislative body.
Opare expresses deep disappointment in Parliament's handling of its responsibilities, particularly in relation to its oversight of the central bank. He notes that the constitution outlines the proper procedure for removing the governor if their performance is unsatisfactory. However, he is surprised that the Minority has chosen what he views as an illegal route instead of following the constitutionally prescribed process.
In addition, Opare criticizes the Majority caucus for its previous attempts to remove Finance Minister Ken Ofori-Attah, suggesting that the entire Legislature is engaging in a deceptive performance when it comes to fulfilling their roles in representing the interests of the Ghanaian people.