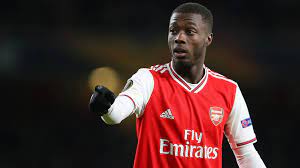 Arsenal has officially confirmed the termination of Nicolas Pepe's contract, allowing him to leave on a free transfer. This announcement marks the end of Pépé's tenure with the Premier League club, a chapter that had both its highs and lows.
The Ivorian winger wasted no time in finding a new home after his contract termination. Just two days ago, Pépé secured a move to Trabzonspor, a Turkish football club. This move is particularly noteworthy as it represents a fresh start for the talented winger, who has shown moments of brilliance during his time at Arsenal but has also faced challenges and inconsistency.
For Arsenal fans, Pépé's departure leaves a void in the squad, and his time at the club will be remembered for his flair and occasional match-winning performances. On the other hand, Trabzonspor gains a player with immense potential and the ability to make a significant impact in their upcoming matches. Pépé's short-term deal with the Turkish club adds an interesting dynamic to his career, and football enthusiasts will be eager to see how this new chapter unfolds for him in the Super Lig.