Mara Wallet: The Cool New Way To Begin Your Crypto Journey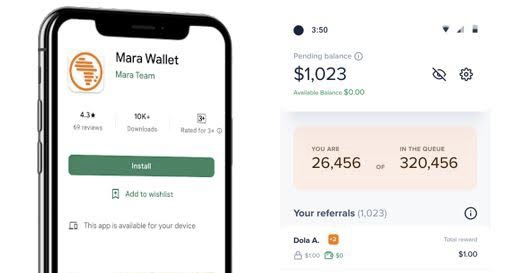 Mara, a pan-African company that offers an ever-expanding suite of crypto products, has announced the pre-launch of the Mara Wallet, a portal to the cryptoeconomy focused on helping people begin their journey towards conveniently managing their crypto-finance needs, take a major step toward financial freedom, and learn more about cryptocurrency and blockchain in Africa.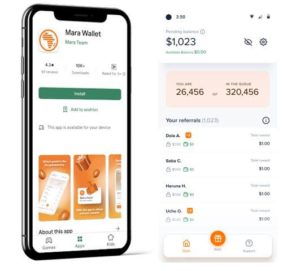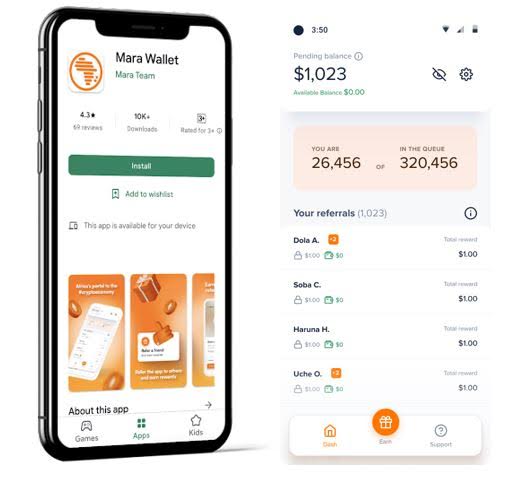 The Mara Wallet is a fast and secure multi-currency crypto wallet that gives Africans control over their cryptocurrency. Offering both user-facing products and core infrastructure, Mara reveals a product roadmap that enables users to easily buy, sell, send, withdraw, store, and protect a wide range of fiat and crypto-assets (such as cryptocurrencies and NFTs) in real time and without any prior crypto knowledge.
"At Mara, we are committed to the financial empowerment of the individuals that use our products and services to meet their various crypto-finance needs, and take responsibility in building an informed community seriously," Chi Nnadi, Co-Founder and CEO at Mara, said while commenting on the pre-launch of the Mara Wallet. "As one of our first steps to achieve crypto education, financial literacy, and ensuring a more equitable distribution of capital, we are delighted to pre-launch the Mara Wallet. Our goal is to get Sub-Saharan individuals started on their journey to leverage a financial infrastructure that they can build their lives upon and make the most of the financial-growth opportunities available in the cryptoeconomy."
---
The Mara Wallet waitlist, which is the core mechanic of the pre-launch app, is aimed at crypto-curious and crypto-enthusiast users alike who seek early access to the exchange. Through it they will unlock financial rewards that give users the perfect jumpstart into the #cryptoeconomy.
While describing how the Mara Wallet waitlist works, Chi added, "Pre-registered users will join a queue to enable early access on a first-come, first-served basis. Moreover, a higher position on the waitlist increases the odds of periodically winning prizes. As soon as users join the waitlist, they instantly earn a signup reward. All users who refer the Mara Wallet to their friends, family and community also earn further rewards when those users sign up using their unique referral link. Pre-registered users who participate in the referral activity also improve their chances of moving to top positions on the waitlist."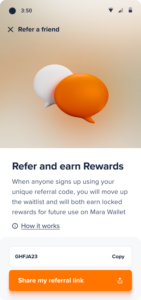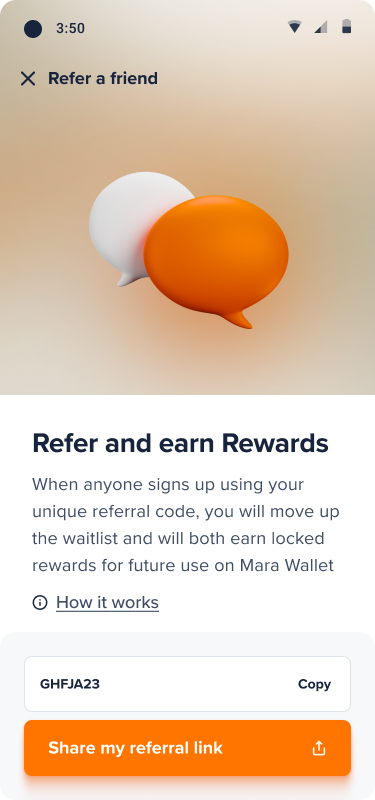 The Mara Wallet app is available on the Google Play and Apple App stores. Once formally launched in a few months, the Mara Wallet will enable users to invest in crypto and send money to their family members in real time without processing times, delays, or high fees. To join the waitlist, download the app on the Google Play or the Apple App Store.
The Mara Wallet pre-launch comes at a critical inflection point in the evolution of Sub-Saharan Africa. The current centralised financial system continues to present ongoing obstacles to the development of both local economies and individuals. As a result, food prices have doubled or even tripled in some areas and created record-breaking interest rates. These systems have prompted a dire need for a decentralised alternative.
Mara's mission is to facilitate a more equitable distribution of capital by providing an alternative that spans across tribes, class, cultures, and countries.
Are you ready to begin writing your crypto story? Mara Wallet is available to download from the Google Play and Apple App Stores now!
About Mara
Mara is building Africa's portal to the cryptoeconomy through a Pan-African suite of products that addresses a variety of crypto-finance needs while complying with local regulations and being authentically built for the African audience. Mara will initially launch in Kenya and Nigeria, with its first product being a simplified user-friendly Wallet through which users can easily buy, sell, send, and withdraw cryptocurrencies. Mara will also launch a pro exchange for experienced users who prefer a full set of trading options and technical analysis tools. The Mara Chain will launch later, granting savvy developers a place to build decentralised applications that will help shape the future of the African cryptoeconomy. Mara's executive team includes former executives from Amazon, PayPal, Uber, NVIDIA, Founders Bank, Rappi, and more. The company raised a total of $23M from Coinbase Ventures, Alameda Research (FTX), Distributed Global, TQ Ventures, Day One Ventures, DIGITAL, Nexo, KuCoin Ventures, Huobi Ventures and nearly 100 other crypto investors and angels. The Mara executive team is led by Chi Nnadi, Lucas Llinás Múnera, Dearg OBartuin, Kate Kallot, and Susan Younis.
For Further information please contact;
Mercy Akamo | Mara VP for Communications
For Further information please contact;
Oladapo Shofu | Mara Communications Manager, West Africa
Lemonade Finance presents Delay in "Wo si woyε musician?"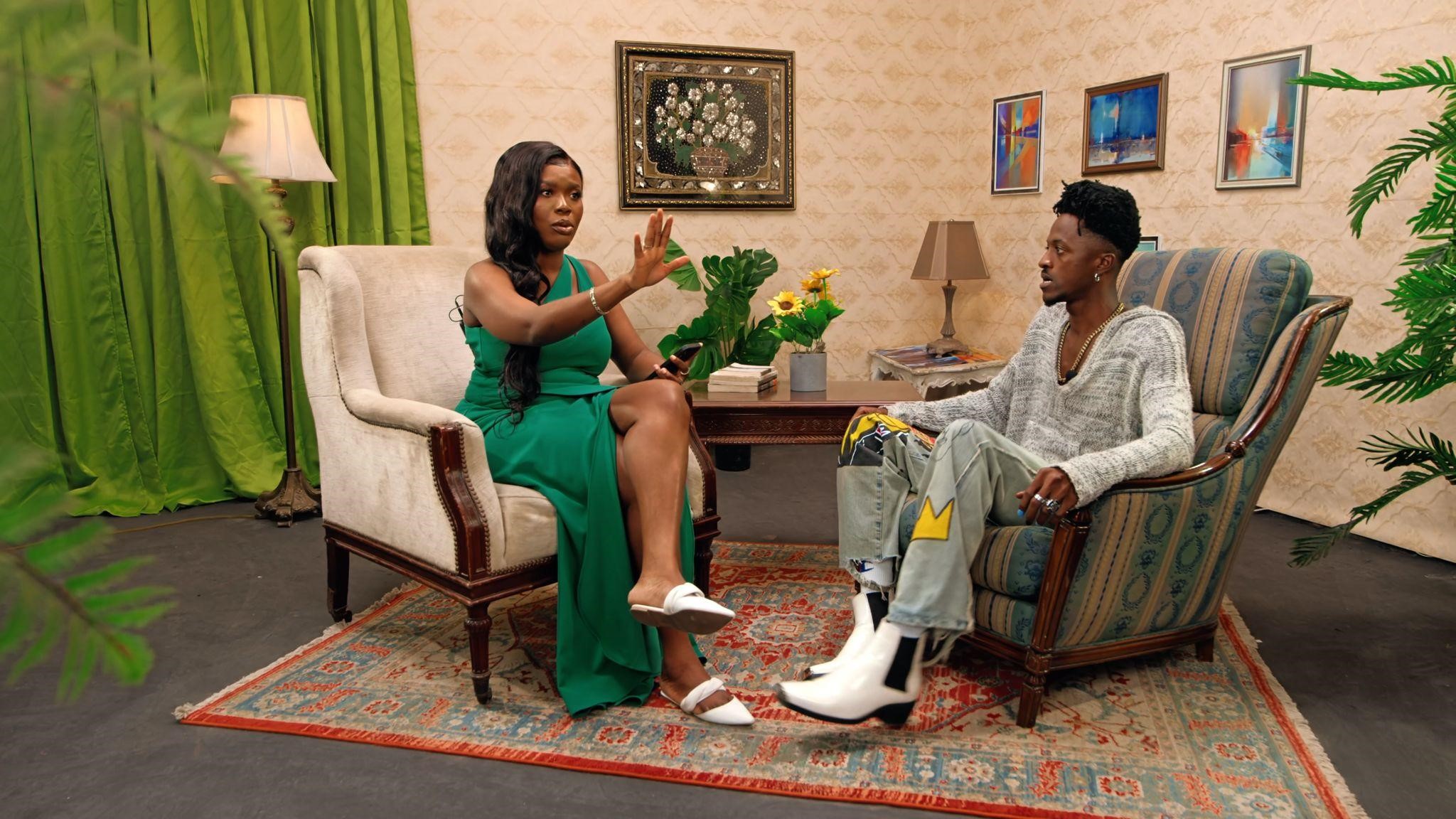 Lemonade Finance is a cross-border payment solution that enables Africans in the Diaspora to send money to Ghana and other African countries. The App is available on the iOS and Google Play Store.
On October 14th, 2022, Lemonade Finance announced seasoned media personality and serial entrepreneur Deloris Frimpong Manso "Delay" as a brand ambassador, alongside John Dumelo and Ras Nene "Dr Likee".
In "Wo si woyε musician?", an upcoming act misses his chance to impress Delay with his singing.
What happens next?
Find out when you watch the video here:
"To us, what the Delay brand brings is trust and discipline" says Precious Ama Kwartemaa Oduro, the Ghana country manager for Lemonade Finance.
"Her wit in this ad captures what audiences, young and old have come to expect from the interview style of Obaa Afia Delay. The Yaa Asantewaa of the media industry".
You can download Lemonade Finance by following: Customers who use the code DELAY during signup will get a $10, £10 or C$10 cashback when they send over 100 Dollars, Pounds or Canadian Dollars to someone in Ghana or any of our other supported African countries.
Find out more about the possibilities of Lemonade Finance on this dedicated page for Ghana.
About Lemonade Finance
Lemonade Finance was founded on a simple goal, to make it easy for Africans to send and receive money from home easily.
With Lemonade Finance, Ghanaians in the UK, USA and Canada can send money to mobile money and bank accounts, at the best rates, instantly and at zero fees.
The Lemonade Finance app is used by thousands of Africans in the United States, Canada and the UK to send money back home to Ghana, Kenya, Nigeria and seven other African countries.
The Official Lemonade Finance channels are:
Instagram: @lemonade.finance, @lemonadefinance.gh
Twitter: @LemonadeFinance, @LemonadeFinGH
Facebook: @lemonade.finance, @lemonade.finance.gh
LinkedIn: lemonade-finance
YouTube: LemonadeFinance
Nigerian Idol Season 7: Get To Know The Top 12 Contestants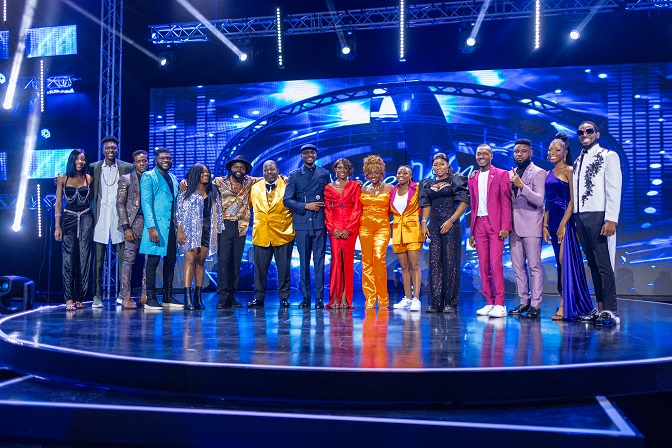 Instead of having to start with the top ten contestants, the organizers added two more to spice up the season.
The Top 12 competitors competed against hundreds of other hopefuls from throughout the country. Gerald, Abigail, Jordan, Itohan, Banty, David Operah, Zadok, Faith, Progress, Debby, Precious, and Joel triumphed after arduous tryouts and several difficult moments.
Here are the top 12 season 7 contestants in no particular order:
Gerald
He is an artist and singer who was able to impress the Judges with his amazing musical ability, which helped him push ahead during his Solo Audition. Music, art, and travel are his keen interests. Out of all these, he has always known music was his true calling because he has always had the urge to sing almost anywhere and at any given chance.
Abigail
Her sonorous voice stood out right from the first stage of Auditions and carried her right to the end. She has always known she wants to be a singer right from childhood and luckily had the support of her parents.
Jordan
Jordan had the Judges amazed by his vocal ability right from his first Audition and got a standing ovation at most of his subsequent performances at Theatre Week. Jordan knew he wanted to be a singer because it is the only way he finds true expression of who he is.
Itohan
Itohan wowed the Judges with her proficiency at playing the keyboard while singing at the same time. Her singing ability was almost unquestionable right from the Auditions. She is looking forward to the euphoria of performing in front of her fans and everyone who has supported her.
Banty
She surprised the Judges with her soulful voice which they didn't see coming and continued to give superb performances back to back. She started singing when she was 8-years-old and has performed mainly at church since then.
David Operah
David Operah pulled out all the stops as a performer at every stage of the Auditions and Theatre Week and his voice mixed with an unmissable swagger became a winning combination. David started singing at the age of eight. He performs at weddings, birthdays, as well as corporate events.
Zadok
Zadok's unique tone and powerful timbre made him one to look out for right from the Auditions and he definitely made sure to use his abilities to get to the top. Entertainer and businessman Zadok started singing a few years back and do that everywhere.
Faith
She had come to the Auditions with the main aim of getting a glimpse of Simi, but she ended up doing more than that and ultimately snagged a spot in the Top 12. She started singing in her church choir in 2016 and decided it was the path for her because she finds so much happiness in music.
Progress
Progress' range stood out amongst many of his peers and that vocal dexterity carried him through the Auditions, then Theatre Week, and then straight to the Nigerian Idol Top 12. After going to a musical competition at the age of 16, Progress knew instantly that he wanted to be a singer.
Debby
She couldn't believe she was on TV during her Audition, but it seems she is going to be on screen a bit longer because her talent took her through all the rounds of Auditions and straight to the Top 12. Debby keeps her passion for music alive by constantly performing on social media, church, and lounges.
Precious
Precious' tone was a delight to hear at the Auditions and it definitely helped the Judges in making the tough decision of placing her in the Nigerian Idol Top 12. She was sure her calling was music at the age of 16, and has since then performed at weddings, birthdays and concerts.
Joel
He came for the Auditions with the aim of making his late father proud and this he achieved as he battled through all the rounds to earn a spot in the Nigerian Idol Top 12. His interest in music has led him to perform at church, school, events and anywhere the opportunity presents itself.
We Will Love You To Join Our Over 190k Members Instagram Family With Just One Click @gharticles
Source: GhArticles.com
BBNaija's Uriel Oputa Clashes With Yvonne Nelson After She 'Exposed' Waist Trainers And Slimming Tea
BBNaija star Uriel Oputa has reacted to Yvonne Nelson's recent post, where she claimed only your mother doctor or the gym is the only people and place that can give you a snatched body.
Uriel who happens to advertise for waist trainers seems not to be pleased with Yvonne Nelson's statement of waist trainers and slim tea doesn't give you a snatched body as they claim, hence coming out with this reaction.
READ ALSO: Slimming Tea, Waist Trainers Don't Work – Yvonne Nelson 'Exposes' Influencers
She sighted an example of how cloth was used to tie the stomach of women who had just given birth and quizzed if that works or not to show that waist trainers have been in the system for a long time and it has been working for women therefore what Yvonne said isn't true.
View this post on Instagram
She also stated that she won't advertise for something she has not used before, trying to debunk Yvonne's post with this reaction and for that reason, all the waist trainers she has been advertising have been used by her and she has seen the result.
READ ALSO: Lovers War: Shatta Wale's Alleged Sidekick/Cousin MagLuv Descends On Michy In New Post
We guess what Yvonne Nelson was trying to say is that depending on waist trainers alone and slimming tea to get a snatched body isn't possible but rather it's either you got it from your mother since birth, or a doctor does it for you, or you go to the gym.
screenshot below;
Source: Ghanaarticles.com