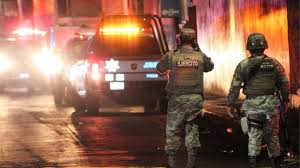 A group of gunmen attacked a convoy of vehicles traveling from the United States to Mexico, injuring three people, including Americans. The incident took place on a bridge connecting Miguel Aleman in Mexico with Roma, Texas, according to the Tamaulipas state security department. Initially, nine people were reported injured, but it was later confirmed that three were shot, and six suffered panic attacks.
The injured individuals included both Mexicans and Mexican-Americans and were taken to U.S. authorities. The convoy consisted of 20 people, with 16 Mexicans and four Americans traveling in two vans, a van, and a pickup truck.
This incident occurred in Tamaulipas, Mexico, where violence and crime have been on the rise. The State Department had previously issued a Do Not Travel advisory for this region due to crime and kidnapping, as violent crimes like homicide, kidnapping, carjacking, and robbery are widespread in Mexico.