Ghanaians Praise Anthony Baffoe For His Inspiring Speech To Black Stars Player Ahead Of Gabon Game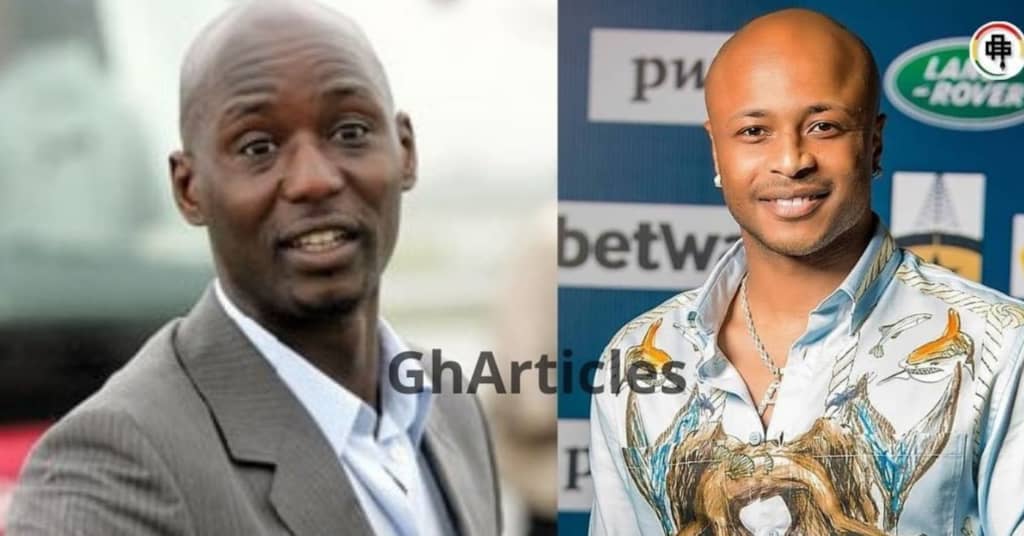 Ex-Black Stars player and legend of the game, Anthony Baffoe has won the hearts of many Ghanaians after a video of him inspiring the Black Stars players went viral.
As at the time of writing this article, Anthony Baffoe is topping Twitter trends as Ghanaians praise the legend for uniting the country behind the Senior National Team again.
After Ghana lost to Morocco on Monday, many Ghanaians lost their interest and believe in the Black Stars following a disappointing performance from the team.
In fact, some Ghanaians decided not to watch the Black Stars game again since they concluded they would not even qualify for the next round.
GhArticles.com earlier reported that the former Black Stars player visited the team after their last training session ahead of the game to speak to them.
He charged the players to settle for nothing but a win so Ghanaians will be proud of them once again.
The video has since gone viral and is spreading like wildfire and has garnered a lot reactions from Ghanaians on social media.
View this post on Instagram
See some reactions from Twitter users below;
That Tony Baffoe speech, has United the entire nation behind the black stars and has brought back the love more than what the FA or the government ever managed.

— @ Yaw Thiago (@DesmondDjik) January 14, 2022
Tony baffoe 's speech hit me even though I'm not a player

— nana Boakye. piawwwwwww (@pboakye88) January 14, 2022
If Tony Baffoe still believes, I believe too. Go Ghana Go

— @ Yaw Thiago (@DesmondDjik) January 14, 2022
Good from Tony Baffoe. Can feel the passion in his voice. Too many players in this team are just passengers not bothered on the pitch. Time to stand up and be counted

— 🅶🆁🅴🅶 (@gsmensah) January 14, 2022
Hope Tony Baffoe's message gingers the boys tonight.

— Ayawaso West Sarkodie (@kwame_sarkcess) January 14, 2022
Someone one will have to sense in their heads and Tony Baffoe is the best person to do that. Them think say, them dey do as a favor by playing for Ghana🇬🇭 so if them catch the pitch top so so 3ho kyire nkoaa them dey do. Let's see what they will do against Gabon. Wish them luck🙏

— Sark4Grammy2022 (@KobinaLikwid) January 14, 2022
After the jama, them go forget Tony Baffoe's speech..

— Mr.Carr (@_MrCarr_) January 14, 2022
We Will Love You To Join Our Over 180k Members Instagram Family With Just One Click @gharticles
Source: GhArticles.com
Social Media Celebrates Pure Water Seller Who Was Captured Sharing Money To Prison Inmates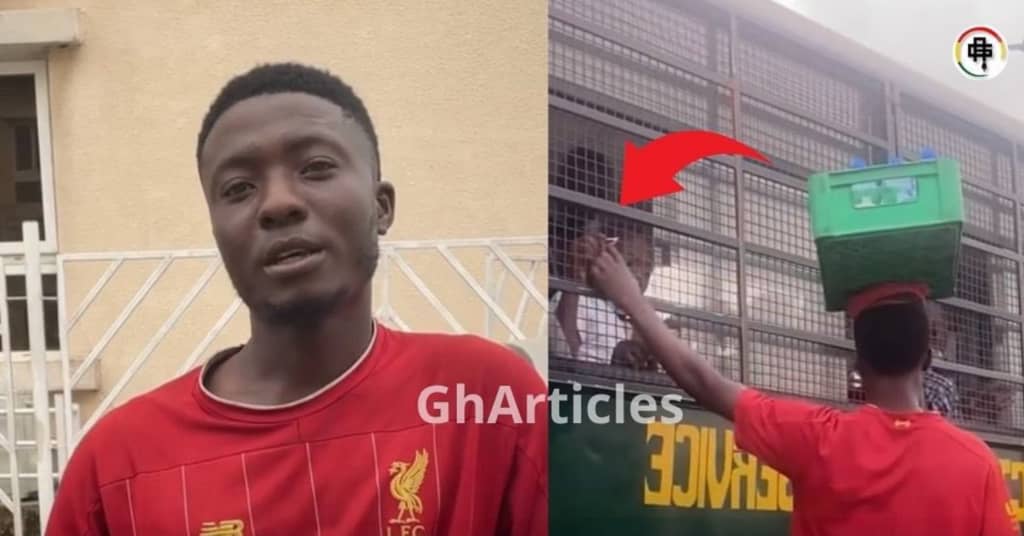 A pure water seller has won the heart of many on social media following a kind gesture he showed towards some prison inmates.
In the video available to GhArticles.com, the pure water seller was seen dashing money to prison inmates who were stuck in traffic.
In an interview, he said he was inspired by his daily struggles to make money on the streets compare them being in prison without the freedom and liberty to live their lives.
According to him, he has freedom to sleep and eat whatever he desires but those in prison don't have their liberty to do so.
Watch the video below;
We Will Love You To Join Our Over 180k Members Instagram Family With Just One Click @gharticles
Source: GhArticles.com
Living In Ghana Is A Miracle, Ghanaians Need Awards Every Year – Ghanaian Lady In US Says [+Video]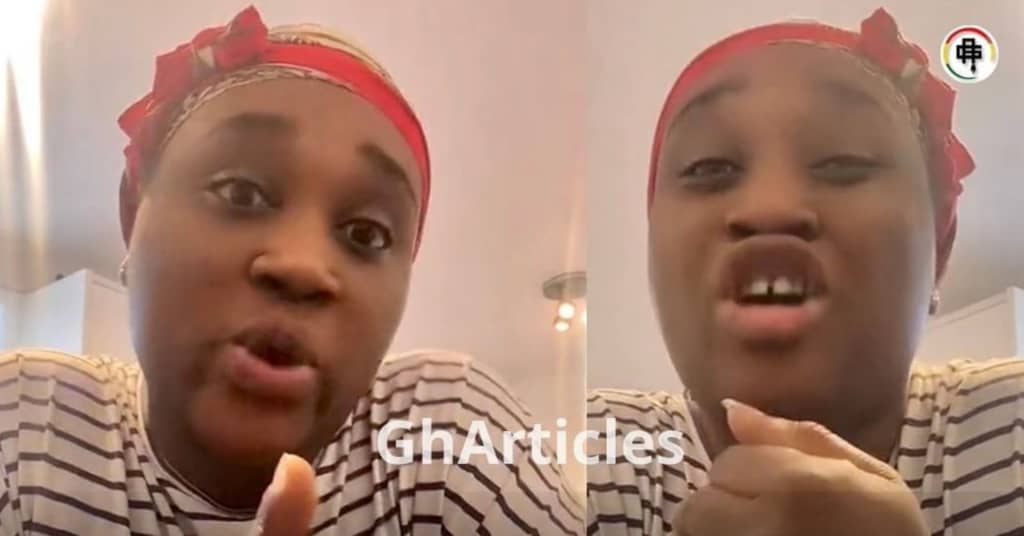 A video intercepted by GhArticles.com captures a Ghanaian lady living in the US urging that Ghanaians need to be awarded every year for living in Ghana.
In the video, the lady was comparing the conditions in the US to living in Ghana.
According to her, living in Ghana is like living in hell and therefore if someone survives in West Africa then it's a big miracle.
Comparing the living conditions in the US to Ghana, she noted that people in the United States live on credit while Ghanaians live on debit in Ghana.
Citing some examples, she said when you are broke and you can't pay your electricity or water bills, they won't shut down your power or water but they will give you some time while still using the electricity or water.
She noted once you have enough money to pay your bills, they will put you on an instalment plan.
However, she said in Ghana the story is different, EC and Water company will cut your supply lines and light if you can't pay your bills.
In summary, she said living in the US is more comfortable than living in Ghana.
Watch the video below;
We Will Love You To Join Our Over 180k Members Instagram Family With Just One Click @gharticles
Source: GhArticles.com
Sugar Daddy Warns His Side-Chick To Stop Recording Him Because He's Married (+Video)
During our usual rounds on social media, GhArticles.com have chanced over a viral video of a married man and his side-chick, who's probably a slay queen.
In the viral video, the lady was seen seated in the man car as he was driving.
The lady was filming herself while flaunting her new hairstyle in the video she just did.
From the look of things, it seems they were leaving the salon, where the slay queen had her new hairstyle fixed.
While filming herself, she showed her man's face who quickly ordered her to stop recording him because he's married.
Then the lady quickly switched the camera from him and stopped recording the video immediately.
Watch the video below;
View this post on Instagram
We Will Love You To Join Our Over 170k Members Instagram Family With Just One Click @gharticles
Source: GhArticles.com