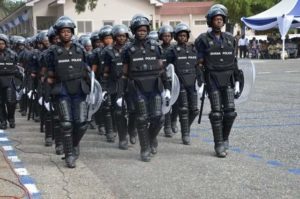 The Ghana Police Service has taken legal action by filing an application at the High Court to seek an injunction against three groups planning demonstrations throughout December.
The groups – Democracy Hub, Patriotic Hub, and the Patriotic Forum for Accountable Governance – had notified the police about their intended protests at the Jubilee House during December 2023.
While two of the groups aimed to demand the resignation or impeachment of President Nana Addo Dankwa Akufo-Addo, the Patriotic Forum for Accountable Governance expressed its intention to hold a protest appreciating the president's efforts in navigating the country through the COVID-19 pandemic and leading it toward economic recovery.
The Ghana Police Service, following a security threat assessment of the proposed demonstrations, engaged with the organizers to address challenges and conveyed its inability to provide the required security. Consequently, the police requested the groups to postpone their protests to a date after January 5, 2023. However, the organizers declined to comply with this request.
In response, on November 15, 2023, the Police Command filed an application at the High Court seeking an order to prohibit the planned events. The application is scheduled for a hearing on Tuesday, November 21, 2023.