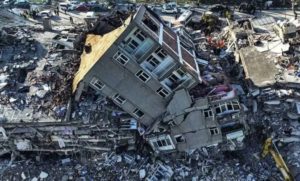 A devastating earthquake with a magnitude of 6.8 struck Morocco, resulting in tragic loss of lives, with at least 820 people reported dead and over 670 injured. This natural disaster also caused significant damage to historic structures and forced frightened residents to flee to the streets for safety.
Morocco's state television confirmed the death toll on Saturday, with 205 of the injured individuals in critical condition. The earthquake, with its epicenter located 72 kilometers southwest of the popular tourist destination Marrakesh, struck at 11:11 pm on Friday, as reported by the US Geological Survey. The impact of this 6.8-magnitude quake was felt as far away as Spain and Portugal.
This seismic event, Morocco's most devastating in decades, left a trail of destruction in its wake. It was particularly felt in coastal cities like Rabat, Casablanca, and Essaouira. Residents and tourists alike were caught off guard, describing the violent tremors that shook buildings and the ensuing panic and shock. This earthquake was unprecedented in Morocco's history and is regarded as the most significant seismic event in the region in over 120 years.