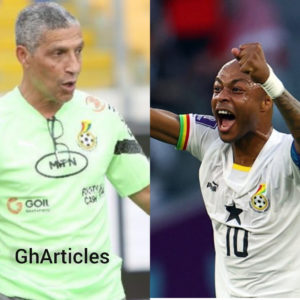 The Black Stars' head coach, Chris Hughton, defended his selection of Andre Ayew for the 2023 Africa Cup of Nations team despite the former West Ham player's absence of a club.
Hughton emphasized the value of choosing a team based on his unique requirements in an interview, as well as the possible contributions that Ayew, who will serve as the team captain, may make.
Despite not having a club since his short-term contract with Nottingham Forest expired on July 1, 2023, which sparked intense public debates, the former Swansea City, West Ham, and Nottingham Forest star finds himself on the roster for the Black Stars' final match in the 2023 Africa Cup of Nations qualifications.
Hughton stated, "From my perspective as the head coach, perception doesn't carry much weight. " Hughton addressed the growing public perception and scrutiny around his pick in an interview with Asaase Radio. It involves choosing a team based on my own standards and explaining why I think each player should be included. Outside opinions are not my main focus.
In order to highlight his role in guiding the team, he added, "Growing perception is not something that means too much to my point of view as the head coach."
"It's about the team I want and the justification for each player's inclusion in the team. What does the outside world think? I'm not sure. My concern is not with this.
"I need to choose a team that has both young, exciting players and players with a lot more experience. Who should join the squad and who shouldn't will always be hotly contested in the general public.
Hughton acknowledged Ayew's resume while discussing his participation, saying, "We are aware of the number of games he has played, and we also know what he means to the squad. He is the team's captain, and I am aware of his contributions.