All You Need to Know About U.S Presidential Candidate Joe Biden
Joseph Robinette Biden Jr popularly known as Joe Biden was born on 20th November 1942 at Scranton, Pennsylvania, as a child Joe Biden had a debilitating stutter and his classmates mockingly calls him "Dash".
Biden tried to avoid stammering by playing out conversations in his head, practicing whiles holding pebbles in his mouth and memorizing paragraphs instead of reading them aloud from textbooks in his class.
Biden attended school at Archmere Academy (A Catholic prep school), he was elected as the class president but the school administrators blocked him from running because they think he has too many demerits.
He also attended university of Delaware and famously got probation for a prank in which he sprayed the dorm director with a fire extinguisher.
Biden met Neilia Hunter on a string break in Bahamas during his junior year of college, Joe didn't have enough money to pay the restaurant bill when he took Neilia on their second date but interestingly Neilia slipped $20 under the table.
When the met Neilia's mother Biden was asked about his ambitions and he revealed he intended on becoming the president of United States one day.
He married Neilia in 1966 and had their son Beau in 1969 and their second born Hunter was born a year later, Biden revealed in any interview in 1970 saying "the only good things in the world is kids" then the proceeding year they had their daughter Naomi.
Whiles Biden was in law school he bought a puppy for Neilia and named it "senator" after finishing law school he was drafted but failed his physicals because he had asthma.
As a public defender in Delaware he defended a 25 years old fisherman who stole a prize winning Holstein cow, During 1970 campaign for new castle county Biden claimed he had racist phone calls "when I picked the call someone said you naughty lover, you want them living next to you?" he was shocked and answered the unknown caller saying "if you are the alternative then yes. In 1972 he defeated incumbent Republican senator Cale Boggs to become the fifth youngest U.S senate.
Few weeks after Biden won the senate seat, Neilia and their daughter Naomi had an accident and they died on their way to the hospital and his two sons Beau and Hunter were hospitalized with severe injuries. He was sworn as a senator in his son Beau's hospital bed.
READ ALSO: Natural Remedies for a Healthy Penis as a Man
Biden remarried in 1977 to Jill Tracy Jacobs. Biden been a top Democrat on the senate judiciary committee led the effort to block then Alabama U.S attorney Jeff Sessions from federal judgeship on racism but Jeff denied the accusations.
In 1987 he ran for presidentship for the first time but he quit after it was revealed that he incorporated into a speech by the British Labour Party leader Neil Kinnock falsely referring to ancestors of his who worked in the coal mines.
As the chair for the judiciary committee he opposed to the supreme court nomination of Robert Bork, a legal scholar and a federal judge. Robert Bork nomination failed in the senate. This is cited by some historians as a new era for political wars over the judiciary branch.
Has the chairman of the judiciary committee Biden presided over Clarence Thomas supreme court confirmation and he become a senate.
In 1991 Biden alongside the majority of the senate democrats voted against the use of to drive Iraq out of Kuwait. Whiles touring Balkans in 1993 Biden met Serbian leader Slobodan Milosevic and said he called Milosevic a "damned war criminal " to his face though others present at the meeting recall it was phrased more diplomatically.
He also co-sponsored the violence against women act in 1994 with republican senate Orrin Hatch of Utah, he provided $1.6 billion to investigate and prosecute violent crimes against women. In 2002 he for the Iraq war and was present when then president George W. Bush signed the resolution ordering the use of arms against Iraq, Biden till now calls that vote a "mistake".
Biden ran for presidency a second time in 2008 but dropped out after coming fifth in the lowa caucus, few months later Barack Obama selected him as his running mate. He angered then-president Obama by publicly declaring his support for gay marriage as Obama's reelection campaign was ramping up in 2012.In 2016 he considered running for presidency but Barack Obama persuaded him not to believing Hillary Clinton has a better chance of winning against the Republicans.
Biden and his wife Jill made over $15 million combined in 2017 and 2018. Until Saturday 2nd of may 2020 Biden had won zero presidential nomination he contested across three campaigns and over 30 years. Four days later his total was 11.Finally in 2020 Joseph Robinette Biden Jr is on the course of fulfilling his dreams of becoming the president of the United States.
Top 10 Gospel Musicians In Ghana 2022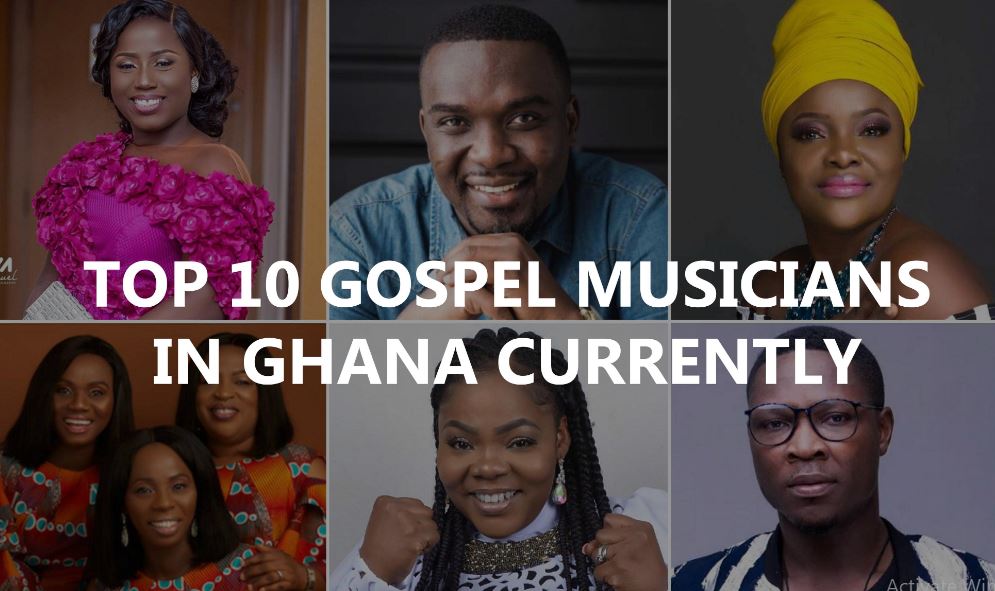 Gospel Music over the years in Ghana has seen some tremendous improvements. Most of the leading artists on the continent are usually from Nigeria, South Africa, and Ghana.  This article however seeks to highlight the top 10 gospel  musicians in Ghana leading the industry . The gospel revolution in Ghana has been going on for a very long time until 2019 when a gospel artist was crowned by the most prestigious music awards scheme in the country, VGMA, as the 'Artist Of The Year'.
Below is a list of one some of the most hardworking gospel artists in Ghana based on streams, awards, and series of events around the artist in the year under review.
Diana Hamilton , Joe Mettle , Celestine Donkor , Joyce Blessing , MoG , Ceccy Twum , Ohemaa Mercy, Empress Gifty , Obaapa Christy ,Mary Ghansah
1. Diana Hamilton
Diana Antwi Hamilton is a Ghanaian gospel musician with several awards to her name. She won the 2021 Most Streamed Female Act of the Year Award at the 3Music Women's Brunch.
In March 2021, she was among the Top 30 Most Influential Women in Music by the 3Music Awards Women's Brunch. She was crowned Artist of the Year and Gospel Artist of the Year at the 2021 Ghana Music Awards on June 26 with her song "Adom"
2. Joe Mettle
Joseph Oscar Nii Armah Mettle, better known by his stage name Joe Mettle, is a Ghanaian gospel singer and songwriter. He is the first Gospel musician to win VGMA Artist of the year award in his Genre, on April 8, 2017.
He has won many awards in Ghana and beyond, and has mounted so many international platforms with International Gospel Artists like Donnie McClurkin, Ntokozo Mbambo and many more. He is married to Selassie Dzisa and they have one child now.
3. Celestine Donkor
Celestine Donkor is a Ghanaian gospel musician and songwriter. In March 2021, she was among the Top 30 Most Influential Women in Music by the 3Music Awards Women's Brunch.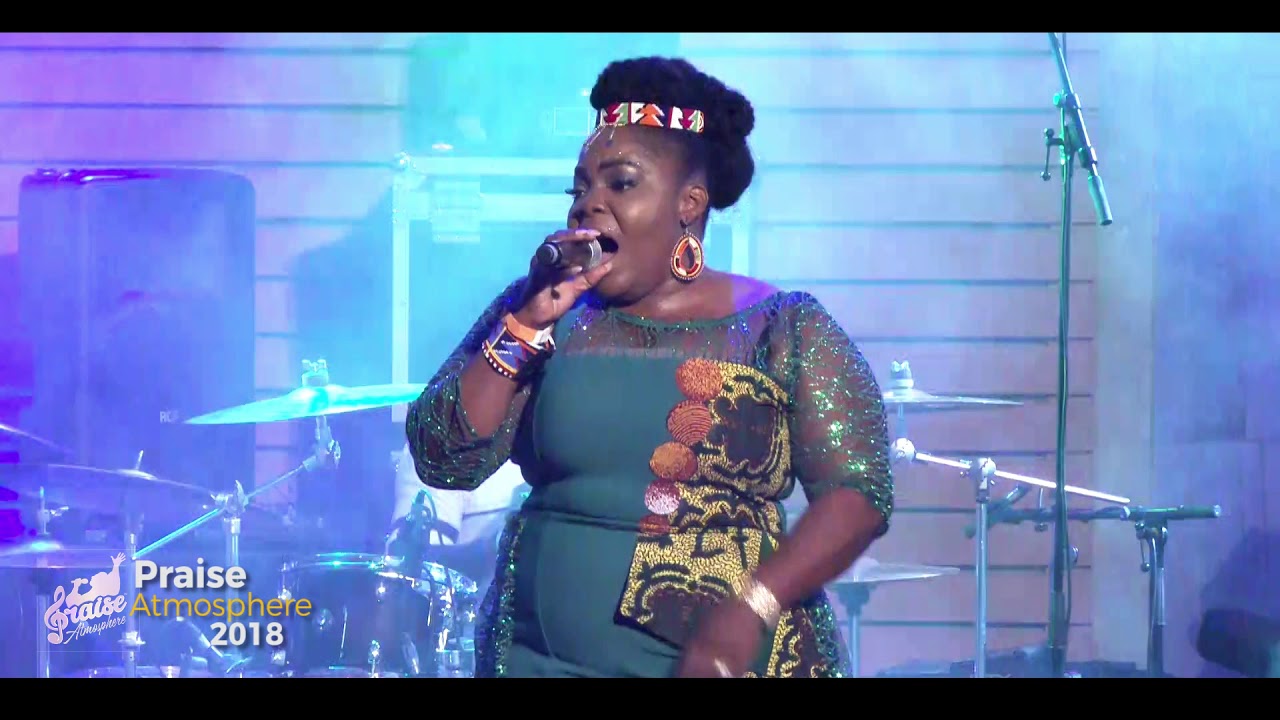 She founded the Celestial Praise, an annual Gospel music concert.
4. Joyce Blessing
Joyce Akosua Twene known popularly as Joyce Blessing was born to Mr Christopher Kwabena Twene and Mrs Gladys Yaa Kyewaa on 15 May at Accra, Ghana.
Joyce is the fourth child of her parents. She grew up with other siblings who were all raised by their mother in Kumasi, the Ashanti Region of Ghana where she had her primary school and Junior High School education.
5. MoG
Nana Yaw Boakye better known by his stage name MOG Music is a Ghanaian contemporary gospel singer, songwriter and a Pastor.
He was born on May 14. Married and won the Male Vocalist of the Year 2020 and 2021 Vodafone Ghana Music Awards.
6. Ceccy Twum
Ceccy Abena Ampratwum (born 13 November), better known by her stage name Ceccy Twum, is a Ghanaian contemporary gospel singer and songwriter.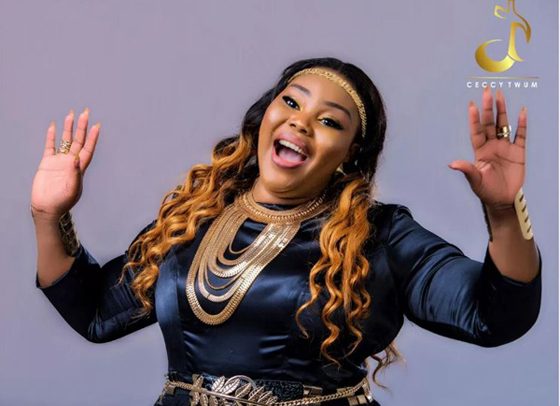 Ceccy was born to the family of Mr and Mrs Andoh in Accra, Ghana. She is married to Prophet Alex Twum and they have three children.
7. Ohemaa Mercy
Ohemaa Mercy is a Ghanaian contemporary gospel singer with several awards to her name.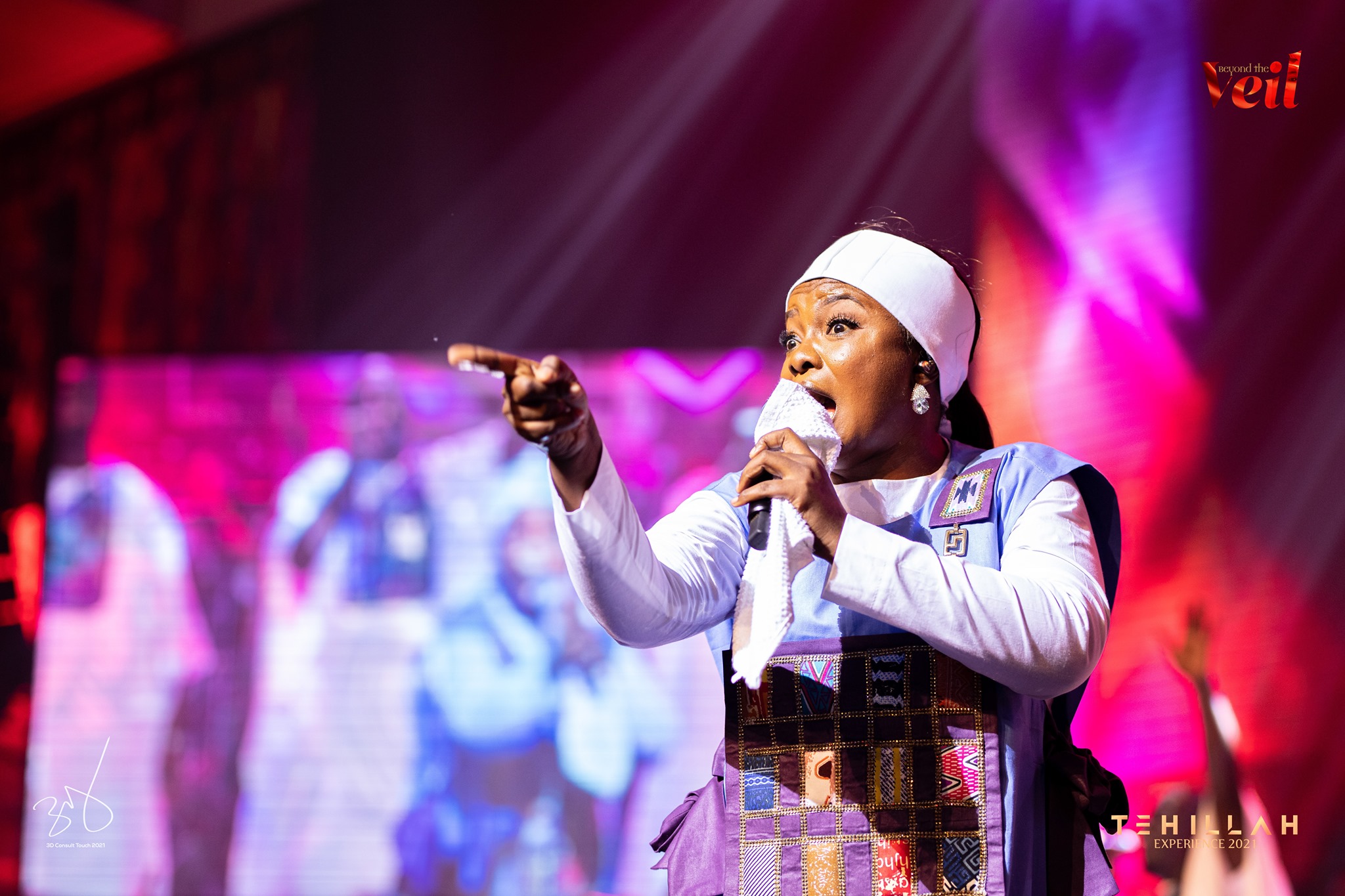 Mercy Amoah popularly known as Ohemaa Mercy was born in Weija, Accra to Fantis parents, Mr and Mrs Amoah, from Abakrapa and Elmina respectively. She lived most of her young life in Koforidua.
8. Empress Gifty
Empress Gifty (formerly Empress Gifty Osei) is a Ghanaian gospel musician and fashionista. She is the first Gospel Artist in Ghana to hit 1 Million Followers on Instagram.
Empress was born to the Oppong and Annan family both from Central and Western Region of Ghana. She started her Primary School education at Mantey Din Primary School and Oninku Junior Secondary School all in Tema.
9. Obaapa Christy
Obaapa Christy (née Christiana Twene) formerly Christiana Love is a Ghanaian Gospel musician. The Meti Ase hit singer was recipient of Gospel Artist of the Year and Song of the Year Awards during the 2007 edition of Ghana Music Awards.
In 2008, she was conferred with a National honor by John Kufuor.
10. Mary Ghansah
Mary Ghansah is a veteran Ghanaian gospel musician and ordained reverend minister. She is best known for her worship career which spanned over 40 years.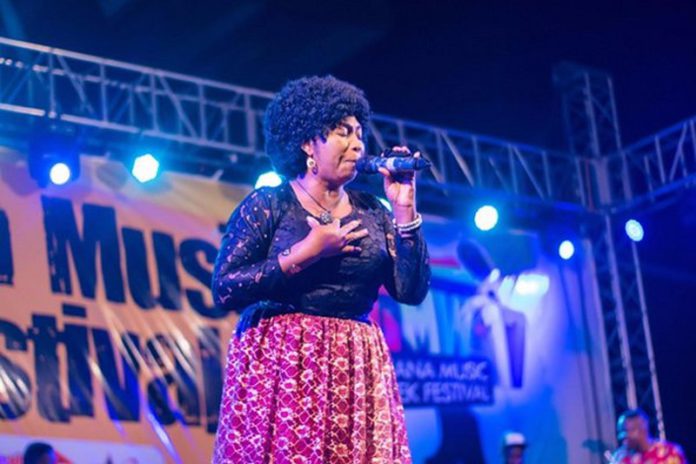 Mary, was born to Mr Joseph Ghansah and Madam Elizabeth Anderson in Tema. She is the eldest among five siblings.
We Will Love You To Join Our Over 190k Members Instagram Family With Just One Click @gharticles
Source: GhArticles.com
Meet Auntie Dedei, The Face Behind The 50p Coin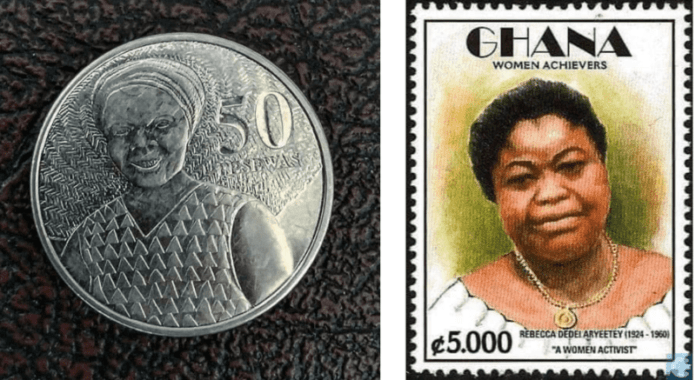 Rebecca Naa Dedei Aryeetey aka Dedei Ashikishan, Pioneer Ghanaian Woman, a Political Activist, Feminist, Chief Financier of CPP and a wealthy flour queen during the Gold Coast era is the iconic face behind the 50p coin.
At age 30, she was the queen of all flour dealers, that's where the name 'Ashikishan' meaning flour in Ga came from. Dedei became so rich, influential and her huge house at Kokomlemle hosted most CPP women activities.
She, unfortunately, died of food poison at a CPP function at Ho in the Volta Region at age 38 that shook the whole of Accra.
She was the woman of the moment then. Her family was told after the 1966 coup that her tea that morning was deliberately poisoned because she knew way too much, she had too much knowledge of top secrets since she was allegedly Dr. Nkrumah's 'sidechick'.
All of that still remains unsubstantiated allegations.
The double-decker buses, 'Auntie Dedei' brought in to Ghana by Harry Sawyerr in the 80s into the 90s were named after her.
Rebecca Naa Dedei Aryeetey photo was used for the Ghana's postal stamp and 50p coin.
Listed Life Facts About Dedei Aryeetey
1. Activist: Political Activist.
2. Feminist: A Preeminent Feminist
3. Financier: Chief Financier of Convention People's Party (CPP).
4. Etymology: Dedei is a generic Ga name for a 1st born girl. Ashikishan is flour in Ga.
5. Entrepreneur par Excellence: Dedei Ashikishan (DA) was, therefore, the Queen of the flour business in Accra and by extension the whole country.
6. Early life: DA was born Rebecca Dedei Aryeetey in 1923. The mother was from Ga and the father Ataa Ayite was from Ga (Asere) and Osu. The father's mother from Osu was called Ama Richter.
7. Childhood: Dedei grew up in Ga (James Town British Accra).
8. Education: After basic education, she went straight into flour business.
9. Business tycoon: By 30, DA was the flour queen in the whole of Accra – wealthy with her huge house in Kokomlemle.
10. Leader of the Market Mammies Association: She soon became the Market Mammie of Accra's Makola market.
11. Campaigner and Financier: She campaigned and funded Nkrumah to win in Ashiedu Keteke, the nerve centre of the Ga-Dangme Confederacy.
12. Prime Minister of Ghana: If Nkrumah had lost that seat, he would never have become the Prime Minister of Ghana.
13. Gbedemah: By the time Nkrumah was released from jail in 1951, Gbedemah had mobilized the market women as the backbone of CPP in Accra. The leader of the pack was Dedei.
14. Nkrumaphoria: The Nkrumaphoria really caught Dedei and she poured MONEY into CPP.
15. Increased influence: As her financial contribution increased so was her influence in the party.
16. Targeted: Her closeness to Nkrumah and the usual rumours made her a target.
17. Accompanied Nkrumah Dedei: Accompanied Kwame Nkrumah to a CPP party function in Ho. She was served some tea, after five minutes she started complaining of stomach pains ''kaaa fee, ma fee'' Dedei was gone by poisoning.
18. At the burial: At the cemetery, Nkrumah cried like a baby.
19. No Post Mortem: On the 22nd June 1961, 38year old Rebecca Dedei Ayitey, CPP financier died at a CPP function mysteriously and no post mortem was done.
20. Unmarried and childless: She died single and childless, she put everything into CPP.
21. A true Nationalist, she campaigned and funded Nkrumah against her own kinsman Odarkwei Obetsebi-Lamptey.
22. Harry Sawyerr Double Decker Buses: When Harry Sawyerr brought double-decker to Accra, they were named Auntie Dedei apparently after her.
We Will Love You To Join Our Over 190k Members Instagram Family With Just One Click @gharticles
Source: GhArticles.com
Oliver Barker Vormawor: Who's The #FixTheCountry Convener And Why He Has Been Arrested And Charged With Treason Felony?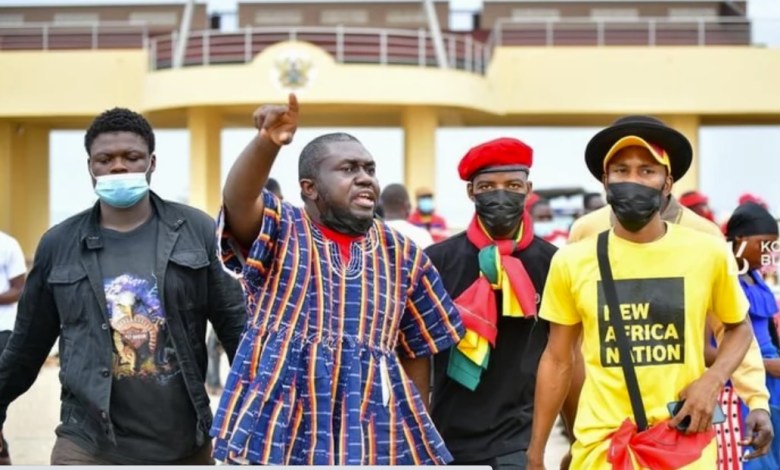 Oliver Barker Vormawor has been trending online for quite some time now, and the reason is that he was arrested because of a post he made on social media.
As a result of the media attention regarding his arrest, many Ghanaians have been looking for information about him.
So Who Is Oliver Barker Vormawor?
Mr. Oliver Barker Vormawor is a Ghanaian lawyer, social media activist, and a Ph.D. student at the University of Cambridge Faculty of Law.
Oliver Barker Vormawor was largely credited with helping to establish the #FixTheCountry movement.
He is an experienced governance advisor with expertise in law and policy within the United Nations System, as well as in African countries.
Throughout his experience as a lawyer, he has been frequently involved in negotiations with private entities, legislators, governmental departments, ministries, and agencies in several countries and has served in various positions such as the law and policy-making process as well as securing regulatory or governmental approvals for various international transactions.
Additionally, Oliver has also served as an advisor to numerous international and multilateral institutions such as the World Bank, UNDP, DFID, OSIWA, ClientEarth, etc.
Oliver worked in the private sector, government, and the United Nations before pursuing his doctoral program at the University of Cambridge.
Olivier has served as a Diplomat for the Ghana Foreign Service, as a Legal and Policy Officer at the Office of the President of Ghana, as a Judicial Fellow for the Vice President of the International Court of Justice, and as a Legal Officer for the United Nations Office in New York and as an advisor to the global law firm Covington & Burling LLP in Washington, DC.
Olivier received his Bachelor's and Master's degrees from the Mohammed V Universities, Souissi, Rabat and Hassan, II Universities, Casablanca in Morocco, as well as his law degree from Harvard Law School.
What are the reasons for his treason felony charge?
A charge sheet filed at the Ashiaman District Court indicates that Oliver Mawuse Barker-Vormawor prepared to undertake any unlawful means an enterprise that usurps the executive powers of the Government of Ghana.
On Saturday 12 February 2022, the Tema Regional Police arrested Oliver Mawuse Barker-Vormawor of #FixTheCountry for stating that he would stage a coup in Ghana if Parliament passes the E-Levy bill.
The Social Media Post
On Facebook, Oliver Barker Vormawor characterized the Ghana Army as "useless" for failing to respond to public uproar despite the bill still to be passed.
If this E-Levy passes after this cake bullshit, I will do the coup myself. Useless Army!" Barker-Vormawor stated in one of his posts.
Okay, let's try again. If this E-Levy still passes after this cake bullshit, then may God….Help us to resist oppressor's rule, With all our will and might for evermore. (2x). Useless Army. Anaa, the value is the same?"