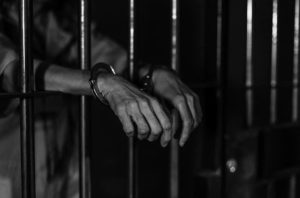 Five individuals engaged in unauthorized mining in the Ankobra River have received a collective 125-year hard labor imprisonment sentence. Initially, they denied charges of conspiracy and illegal small-scale mining.
Judge Hathia Ama Manu found all five guilty after legal proceedings. They received a five-year prison term for the first charge and a GH₵120,000 fine or an additional five years in prison with 20 years of hard labor for the second charge, to be served concurrently.
Assistant State Attorney Mr. Kingsley Agyekum, representing complainant Nana Yaw Baako, led the prosecution against these illegal miners in Ankobra, Prestea Huni-Valley Municipality. They were caught prospecting for gold with a dredge machine in the Ankobra River based on a tip-off.
The incident occurred on August 17, 2021, when the complainant and five community leaders apprehended the individuals in Kpoviadzi village, Prestea Huni-Valley Municipality. They were subsequently handed over to the Prestea police for investigation, and their dredge machine was destroyed.
Before the trial, the accused individuals were granted bail at the request of their counsel, Mr. Augustine Arvoh-Mensah.