2022 Budget: Ghanaians Sing Asiedu Nketia Praise After He Single-handedly Scared NPP MPs From Appearing In Parliament
The National General-Secretary for the opposition National Democratic Congress (NDC), Mr Johnson Asiedu Nketia presence at Parliament sitting to approve the 2022 budget scared off Majority caucus from appearing at the chamber meeting.
Earlier on GhArticles.com reported that the House of Parliament has rejected the 2022 budget.
The budget which was debated on today and voted for had 137 against it and 0 votes for it's approval.
This means that the new policies introduced by government for 2022 can not be implemented.
In a report filed by Mynewsghana.com, the Minority had requested the Finance Minister to scrape the E-Levy and make provisions for the Ketu sea defense project.
Though members of the majority were absence from the chamber for almost four hours, they came back after a call from the minority to Ghanaians to call on their MPs to part take in the debate and voting.
Asiedu Nketia an uninvited guest was seen seated at the public gallery seat in Parliament to witness the debate and voting of the 2022 budget.
His presence scared off the majority caucus in Parliament who then called for his sacking from the house.
When their call for General Mosquito as he popularly called, to be sacked got backfired they walked out of Parliament in shame.
Majority in parliament walks out of the chamber. They're demanding that Johnson Asiedu Nketia leaves the public gallery of the house otherwise they will not be part of the process for the budget.

— SPORTS ON STARR (@francis_abban) November 26, 2021
Following that, social media is buzzing as Ghanaians sing Asiedu Nketia praise for saving us from the E-Levy tax which many Ghanaians are against.
Speaking after the meeting was suspended by the Speaker of Parliament, Mr Asiedu Nketia noted that he has been a member of Parliament, a citizen of Ghana and a member of the board in Parliament so he has every right to attend the meeting as part of his right as a Ghanaian.
He added that, sitting at the public gallery seat makes him a good citizen of Ghana who wants to know what the MPs are really doing for Ghanaians.
When Parliament tried to sack Asiedu Nketiah. Asiedu Nketia de asem beba oooooo pic.twitter.com/btdyGI6uSc

— Afia Pokua(realvim) (@real_vim) November 27, 2021
See some reactions from Twitter users below;
Asiedu Nketia's presence in the public gallery allegedly drove all NPP MPs out of the chamber. SO why is the government running away from its own 'Agyenkwa' budget? pic.twitter.com/890iwyKrop

— Active Tv (@activetvgh) November 26, 2021
Thanks Asiedu Nketia, for rejecting the E-levy

— POLONGO📯 (@POLONGO_GH) November 27, 2021
Whenever Asiedu Nketia appears in paliament Ghana wins, God bless you General. ♥️♥️♥️ pic.twitter.com/UnaadV9doQ

— Gomoa Boy 😅💫 (@fanti_boi) November 26, 2021
🤣🤣🤣🤣🤣🤣🤣🤣🤣🤣🤣🤣🤣🤣🤣🤣🤣🤣🤣🤣🤣🤣🤣🤣🤣🤣🤣
This mosquito is too powerful. No mosquito repellent can repel it. Even a conglomeration of elephants and one mixed breed of antelope and rhino couldn't stand him. Hon. Asiedu Nketia, we dey feel you. https://t.co/LTuPs3e0Ib

— John Mahama, Prez Jan, 2024 🌹🌹 (@ElvisKwakuAttah) November 27, 2021
Asiedu Nketia tension 138 MPs to walk out and you don't fear him mmoaaa 😂😂😂

— Gomoa Boy 😅💫 (@fanti_boi) November 26, 2021
Asiedu Nketia is a god🔥🔥🔥 pic.twitter.com/Zn1znf3pZ0

— promise Dumevi (@dumevi_promise) November 26, 2021
So the NPP left Parliament because of Johnson Asiedu Nketia, A.K.A General Mosquito…..

When our General Secretary stormed Parliament, theirs was at the Blue kiosk…🤣🤣🤣

Party fonn saaaa no🐘

🤣🤣🤣🤣🤣

— Kasoa Ben Koku Avle (@Owuraku_Dorsty) November 26, 2021
The budget was about to be accepted by parliament

Then that is where Asiedu Nketia comes in
Akuffo Addo might be shaking by now pic.twitter.com/f3yuMboRrg

— Advans09 (@SadboysChairman) November 26, 2021
Just the presence of Asiedu Nketia in the gallery is making the NPP uncomfortable 😂😂😂

— KING IN THE NORTH (@_Northerner1) November 26, 2021
We Will Love You To Join Our Over 170k Members Instagram Family With Just One Click @gharticles
Source: GhArticles.com
Social Media Celebrates Mother Of Bride After Marriage Advice To New Couple Went Viral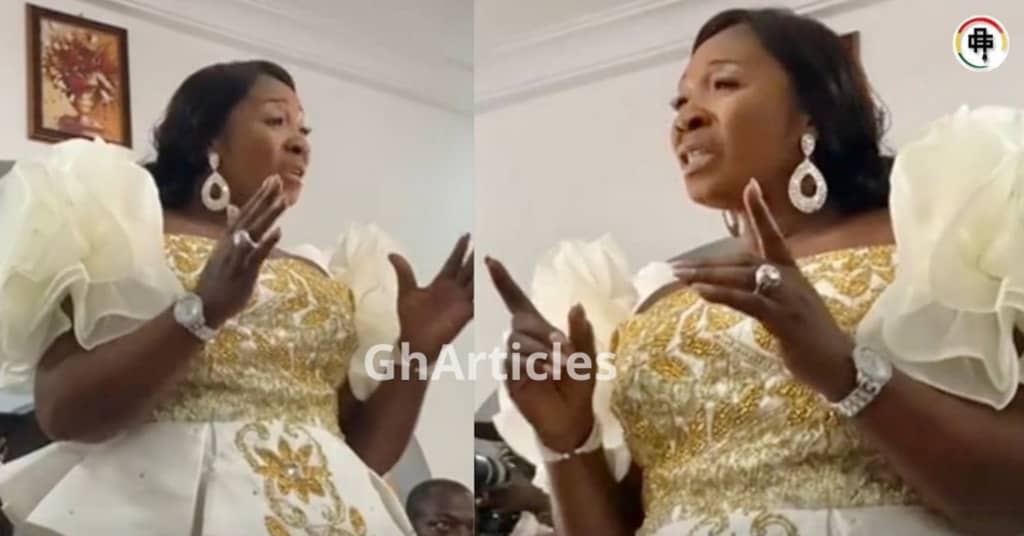 A mother of the bride has earned herself some praises from social media users after she delivered one of the best pieces of advice to a newly wedded couple.
In a video sighted by GhArticles.com, the bride's mother was heard giving her daughter her final piece of advice concerning marriage.
According to her, if a marriage will be successful she must act like a "fool."
To this, she explained that acting like a f*ol means submitting yourself totally to your husband and defending him in public but addressing the issue in private.
She also advised the man (groom) to never raise his hands on his wife. She added that her daughter is so precious to her like he too.
She noted that he should channel that strength to work hard and provide food for the home.
The mother of the bride then listed things that make marriages successful.
She said respect, humility, love, food, and sex.
Watch the video below;
We Will Love You To Join Our Over 190k Members Instagram Family With Just One Click @gharticles
Source: GhArticles.com
Nigerians Troll Ghanaians After AFCON Loss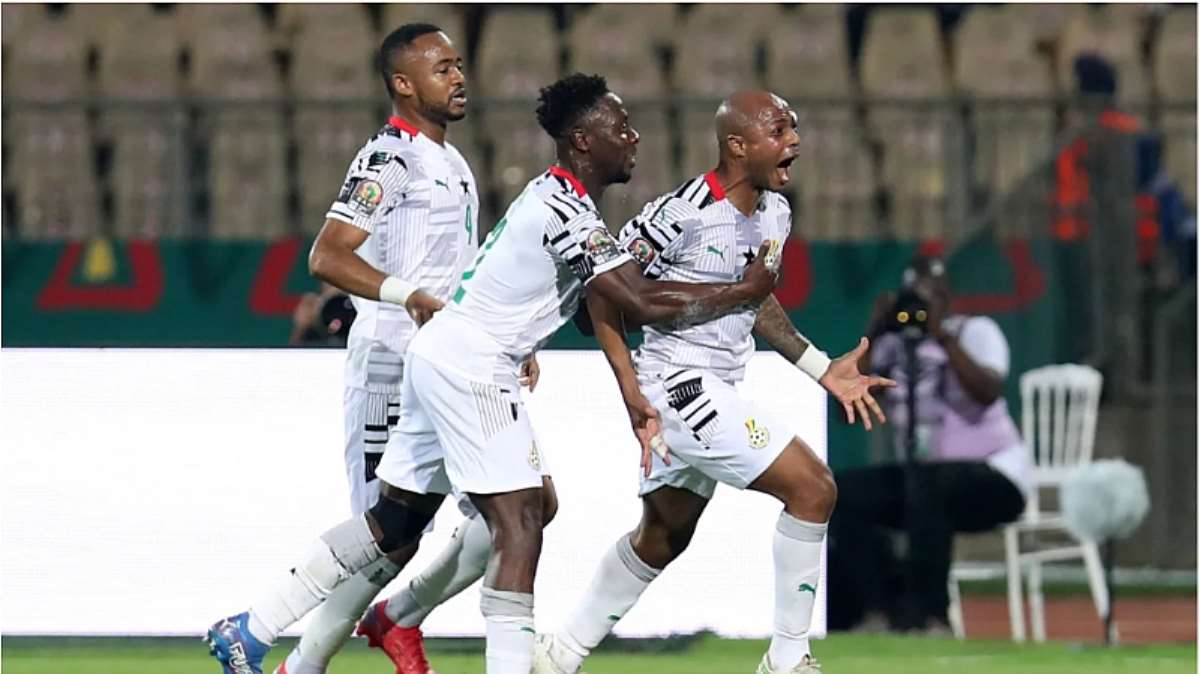 The Ghana Black Stars lost their fate deciding match to new comers, Comoros in the group stages.
After 90 minutes of play, the scoreline was; Ghana -2, Comoros – 3.
Skipper Andre Ayew was given a red-card, leaving a 10-man side for Ghana for most part of the game.
Celebrating Ghana's loss, Nigerians have taken to Twitter to troll Ghanaians.
Here are some tweets:
We Ghanians are here to win the #AFCON2021
Comoros pic.twitter.com/CcHNcnrVZa

— Habibi💯 (@Habibi_doc) January 18, 2022
Someone said Ghanians Accra ing right now 😂😂 pic.twitter.com/AFecZmcbeD

— MO'ses mac 🇳🇬🦅 (@MacOfEdo) January 18, 2022
even tho Ghana didnt CEDIS coming they are GHANA go home and PARTEY after PARTEY with asamoah gyan and ghanians while south Africans sing karma is a bitch😂 pic.twitter.com/rUdc2gk4sE

— Tobi Ayangbile (@Temzysleek) January 18, 2022
Ghanians when they realize Nigerians are waiting on twitter 😂🤣
#AFCON2021 pic.twitter.com/bMiA4pQ1de

— copyNinja 💊 (@1tzkelvin) January 18, 2022
I'm sure Ghanians are Ghana Accra when they cedis😂😂😂 @shattawalegh wale go talk say nah because Nigerians no watch our match the way we watch theirs make us loose😂😂 https://t.co/95iQyG5Cvp

— Ezeaku Chimaroke Stanley (@ChimarokeEzeaku) January 18, 2022
Ghanians on twitter right now!!!¡

🤣🤣🤣🤣 pic.twitter.com/859IOy9g7q

— OnwaNnewi (@Kene_Nnewi) January 18, 2022
We Will Love You To Join Our Over 180k Members Instagram Family With Just One Click @gharticles
Source: GhArticles.com
BREAKING: Machomen Engaged On Nima Street F!ght As Gunshots Are Fired In Viral Videos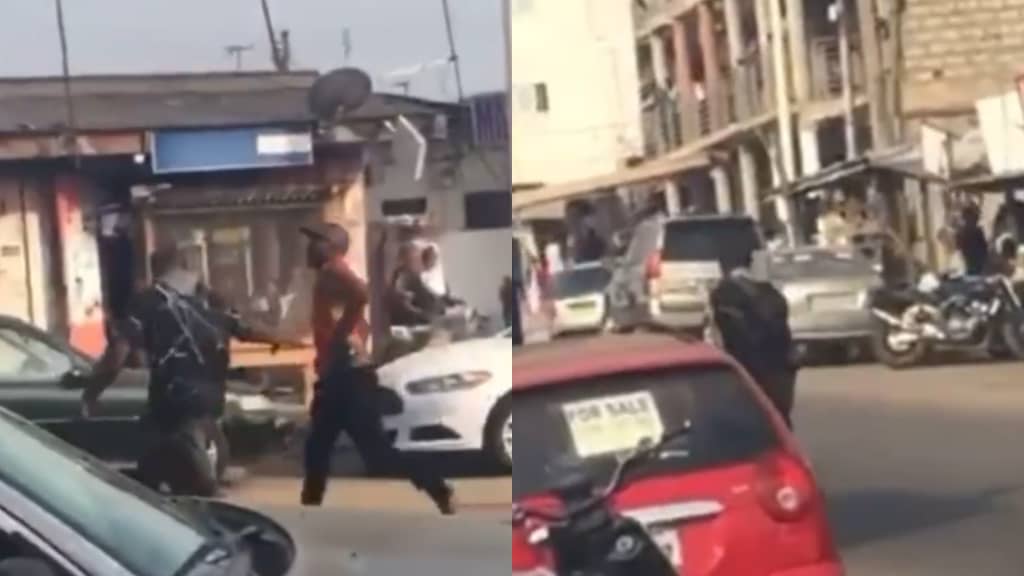 A fast trending video making rounds on social media captures the moment some young machomen engaged in a street fight.
In the video sighted by GhArticles.com, the macho men were seen chasing after another group believed to be the one they are fighting while holding machete and guns.
One of them run ahead to shoot at his enemies while standing in the middle of the road.
The video was taken by an eyewitness, the people were heard screaming as the young man fired the gun twice.
The incident happened at Nima-Mamobi, a suburb in Accra.
In another video, the Nima Police have rushed to the scene to restore calm and arrest the culprits.
Watch the video below;
View this post on Instagram
View this post on Instagram
We Will Love You To Join Our Over 180k Members Instagram Family With Just One Click @gharticles
Source: GhArticles.com