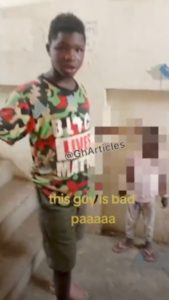 A video circulating on social media has raised allegations against a teenager for supposedly assaulting a very young child, possibly less than 2 years old, as the child couldn't communicate verbally. In the video, amidst accusations from a gathered crowd, the young man vehemently denies the alleged crime while being filmed.
The video has sparked outrage among many social media users, who have condemned the perceived heinous act and are demanding the teenager's arrest. Some are also directing blame towards the child's parents, accusing them of negligence for allowing their child to be in such a vulnerable situation on the streets.
However, a contrary perspective has emerged from one social media user, who is questioning the absence of concrete evidence to support the accusations. They argue that if the young man wasn't caught in the act, there should be caution in assigning blame.
This incident serves as a stark reminder of the importance of protecting our children, regardless of their gender, as there are potential threats in society. Many are calling for the apprehension and severe punishment of individuals involved in such heinous acts, emphasizing the need for justice in cases like these.
Watch the video here
https://www.instagram.com/reel/Cw7a2o6ISuI/?igshid=NTc4MTIwNjQ2YQ==