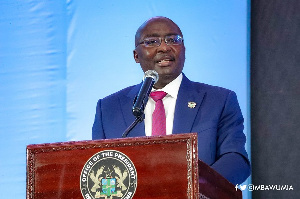 Vice President Dr Mahamudu Bawumia has announced that commercial taxi drivers will be migrated to a ride-hailing app as part of efforts to digitalize commercial drivers' operations.
According to him, the initiative was inspired by taxi drivers' complaints that their businesses were on the verge of failing due to the rise of ride-hailing companies in the country.
"We sat down with my team and said, okay, how do we help our taxi drivers compete with the Uber drivers so that they can also be like Uber? So, we set the team to work. And so the task was to digitise the operations of our regular taxis, just as you have with Uber.
"I'm happy to say that that work has now been completed. And in the next couple of months, we will be able to place our taxis at least in Greater Accra to start with, all on an Uber-like platform. And you'll be able to call them just like you call Ubers to your homes and all of that."
Dr. Bawumia made this revelation during a conference at the Church of Pentecost Ghana on Wednesday, April 3.
In addition, he stated that efforts were underway to digitalize the country's public and private transport sectors by the end of the year.
"There's more actually coming. We are attacking everybody. Trotros will come later on, VIP buses, Ayalolo, Metro Mass. The whole public sector is going to go and private sector transport is going to go on what we call a tap-and-go system.
"When you go to England, they have the Oyster card that you travel with. Ghana is also going to have an Oyster card before the end of this year."
He, therefore, advised politicians to prioritise finding solutions to the problems of their electorates.
Source: Gharticles.com
join our over 1.4 million followers instagram community by clicking here –> GH ARTICLES