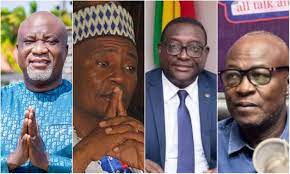 Following the conclusion of the New Patriotic Party's (NPP) presidential flagbearer selection, the party has initiated a membership review process resulting in the dismissal of several prominent figures. Hopeson Adorye, Nana Ohene Ntow, Boniface Abubakar Saddique, and Yaw Buaben Asamoah have been ousted for contravening the party's constitutional clauses, specifically Articles 3(5)(A)(4) and 3(9)(1).
A press statement released by Lawyer Justin Kodua Frimpong, the Party's General Secretary, outlined the party's decision, citing the individuals' open endorsement of a presidential candidate other than the officially elected NPP flagbearer, His Excellency Dr. Alhaji Mahamudu Bawumia.
The statement expressed concern over the aforementioned members' actions, which included publicly endorsing a candidate from a different political party, a move deemed incompatible with their membership within the NPP.
"Despite publicly endorsing the flagbearer of another party, the individuals continued to identify themselves as members of the NPP, contrary to the stipulations outlined in Articles 3(5)(A)(4) and 3(9)(1) of the party's constitution," noted Lawyer Justin Kodua Frimpong.
The NPP's constitution unequivocally states that any member who stands as an independent candidate against the officially elected party candidate, or openly supports another political party or independent candidate when the party has fielded a candidate, automatically forfeits their membership.
Consequently, the expulsion affects key figures such as former National Communications Director Yaw Buaben Asamoah, former MP for Madina Boniface Abubakar Saddique, Hopeson Adorye, and Nana Ohene Ntow. They publicly declared their support for Alan Kyerematen after he parted ways with the NPP to establish the Movement for Change Party and declared his presidential ambitions.
The decision to expel these members reflects the party's commitment to upholding its constitutional principles and ensuring discipline and loyalty among its ranks.
The expulsions mark a decisive move by the NPP to enforce internal party regulations and uphold party loyalty in the wake of the recent flagbearer elections.