AMG Medikal, popular Ghanaian hip-hop musician, has responded to a post by a woman on Twitter.
The Ghanaian woman @adjo_a_sika questioned the musician's style of dressing in a Twitter post.
She wrote, "In AMG Medikal's mind is he living in Canada, Finland, Russia or something? I don't understand why he's always wearing winter jackets and hats in Ghana. In this heat! Anaa 3y3 fashion? I'm asking for a friend oo."
The musician responded to the post saying, "In your mind we are all going through the same thing, Ibi winter for my side."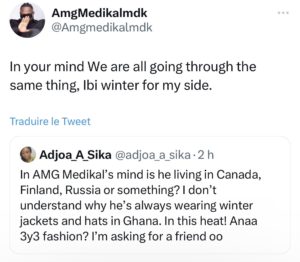 Many Ghanaians on Twitter reacted to the post with laughing emojis.  @ElShatta16 wrote, "Bossu you get time dey reply these people 😂 abeg, jxt find some chilled drink and forget these people 😂."
AMG Medikal whose birth name is Samuel Adu Frimpong is a popular Ghanaian musician who has made a name for himself in the music industry through hard work and his numerous collaborations with successful artists.
Source: Gharticles.com
join our over 1.4 million followers instagram community by clicking here –> GH ARTICLES