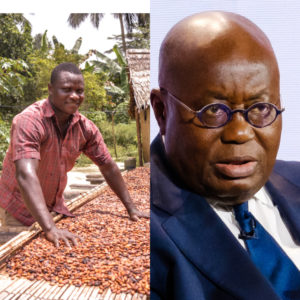 Cocoa growers in the Ashanti Region are expressing their deep appreciation for President Akufo-Addo's decision to raise the producer price of cocoa. This increase, which takes it from ¢800 per bag to ¢1,308 for the upcoming 2023/24 season, has sparked jubilation among the farming community.
A video shared by UTV Ghana on Twitter captures the heartfelt celebrations of these farmers. They are not only applauding the president for this significant boost in cocoa prices but also rejoicing at the promising prospects it holds for their livelihoods and the cocoa industry as a whole.
This positive development underscores the importance of fair compensation for agricultural efforts and the potential for improving the lives of those who work tirelessly to cultivate this precious crop.