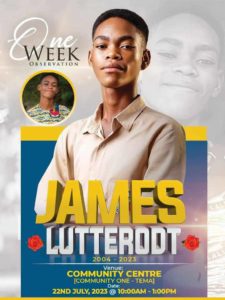 A burial service was conducted in Keta, Volta Region, to commemorate the life of the late National Science and Maths Quiz (NSMQ) star, James Lutterodt. At just 19 years old, James was a vital member of the Keta Senior High School team that made history at the NSMQ in 2021.
Tragically, James succumbed to a brief illness on July 1 while receiving treatment at a hospital in Tema. The news of his passing left a deep and enduring impact on those who knew him, including Stephen Mawunyo Gadzo, the father of Bright Senyo Gadzo, another contestant who competed alongside the late James Edem Lutterodt.
In an interview with journalists, Stephen Gadzo expressed his profound grief, describing James as more than just a friend but as a son and a source of inspiration. He shared how they frequently communicated on WhatsApp and exchanged ideas. The news of James' passing deeply disturbed both him and his son, leaving them at a loss for words.
Stephen Gadzo struggled to make sense of the tragedy and admitted that the pain was so profound that it could have been his own son or anyone else in James' place. Despite the overwhelming sorrow, he found solace in giving thanks to God, acknowledging that at this final hour, there was nothing more they could do.
In addition to the burial service in Keta, a pre-burial ceremony was held at the Tema Community Centre in Accra on Friday to pay tribute to James Lutterodt.