I'd Rather Go To The "Bottomless Pit Of Hell" Than See Mahama And NDC In Power – Kwamena Duncan
Former Central Regional Minister, Kwamena Duncan, has advised Ghanaians not to fall for former President John Dramani Mahama and his National Democratic Congress (NDC) telling them not to make an attempt to bring them back into power.
Kwamena Duncan called on Ghanaians to wait on President Nana Akufo-Addo and Vice President Mahamudu Bawumia as he works to enhance the progress of the country.
He expressed confidence in the President to transform Ghana's economy.
"I have confidence rather in this pair, in the capable hands of Akufo-Addo and Bawumia to take us back, to bring us back on track and we will get there.
This is just first year of the four-year term, we will get there! . . . Let us continue to have faith in President Akufo-Addo and Alhaji Mahamudu Bawumia that this economy will be brought back on track," he said on Peace FM's 'Kokrokoo' programme.
To him, choosing former President John Mahama is to choose hell.
"The good work that Akufo-Addo and Bawumia did between 2017 to 2018, the COVID has succeeded in consuming a major, major part of it.
And I want to reckon and acknowledge that it's made the system hot a little, but if you ever told me that there was a certain alternative and that alternative is in former President Mahama and NDC, my goodness! I would rather you send me to the bottomless pit of hell. Take me there because we saw what they could do and what they did," he stated.
We Will Love You To Join Our Over 180k Members Instagram Family With Just One Click @gharticles
Source: GhArticles.com
2024 Elections: 'The Key Has Been Taken From NPP' – Rev Owusu Bempah Reveals Prophecy
He said God revealed to him that he has taken the power from the 'elephant family'.
According to him, a key that symbolises power is no longer in the hands of the NPP and cautioned the National Democratic Congress (NDC) that there is no guarantee the key will be handed to them in 2024.
In an interview on Accra-based Okay FM, he said "The key to winning the elections has left the NPP. I have seen it so if they will listen and pray on it, they should act fast. We should find out what Saul did before he was stripped. God can reveal to a prophet who will win the elections.
"We should ask ourselves why God has taken the key from the NPP. If they don't take what I said seriously, it will affect them. NDC should also not assume that due to the situation in the country, they will win the elections."
"What I saw is that the key is no longer in the hands of the NPP but I don't know who the key was given to. The person who took the key is yet to give it to anyone. This means that the final decision is yet to be made," he added.
We Will Love You To Join Our Over 180k Members Instagram Family With Just One Click @gharticles
Source: GhArticles.com
Government Expected To Borrow Up To ¢3.78bn In First Quarter Of 2022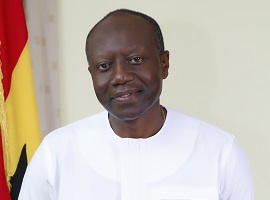 For the first three months of 2022, government plans to issue a gross amount of ¢24.5 billion, of which ¢20.7 billion is to rollover maturities.
This indicates that the government's debt level is not going to reduce anytime soon.
As usual, most of the funds to be mobilised will come from the 91-day Treasury bills, a move that has helped reduce foreign debt but rather crowded out the private sector from access to financing on the domestic market.
According to the data, the government will borrow as much as ¢11.3 billion of the 91-day T-bills during the period, higher than the previous quarter.
It will be followed by the 182-day T-Bills in which a total of ¢3 billion will be mobilised. Then, finally, the biggest of ¢1.6 billion will be issued in March 2022.
¢2.15 billion will, however, be mobilised from the 364-day bills. The majority of the funds are expected to be raised this month.
¢2 billion is also expected to be raised from a 6-year bond. This is expected to be done in January 2022.
Again, the government is expected to issue a 7-year and 10-year bond in February and March 2022, respectively. ¢1.2 billion and ¢800 million are expected to be borrowed from both resident and non-resident investors.
Government said the calendar is developed based on the Net Domestic Financing provided in the 2022 Budget, the 2022 domestic maturities for the period, the 2022 Borrowing Plan and the Medium Term Debt Strategy.
Public debt stock hits ¢341.8bn as of September 2021
Ghana's public debt stock hit ¢341.8 billion in September 2021, the November 2021 Bank of Ghana Summary of Economic and Financial Data revealed.
This was equivalent to 77.8% of Gross Domestic Product (GDP).
Between July and September 2021, ¢5.9 billion fresh loans were added to the total debt. The surge in debt came largely from the domestic debt and due to the slight depreciation of the cedi to the dollar.
However, the government had indicated in its Issuance Calendar for the final quarter of 2021 that it will borrow just about a billion cedis.
According to the data from the Bank of Ghana, the domestic debt went up to ¢178.1 billion in September 2021, up from ¢173.9 billion recorded in July 2021. This was equivalent to 40.5% of GDP.
We Will Love You To Join Our Over 170k Members Instagram Family With Just One Click @gharticles
Source: GhArticles.com
Here Are All The Beautiful Pictures You Missed At The Wedding Of Hawa Koomson's Son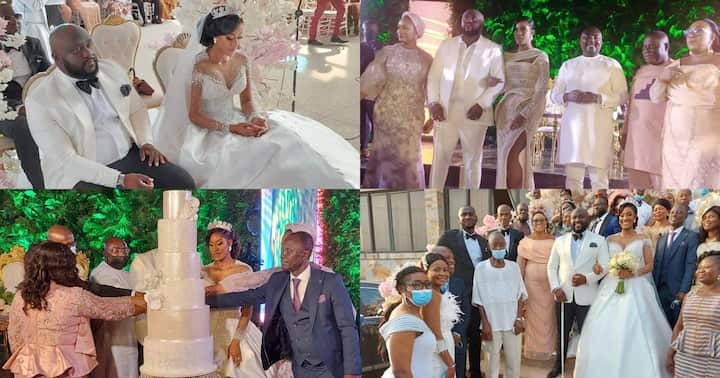 The event which was full of glitz and glamour took place during the weekend.
The peach-white-themed event took place at the Teshie Methodist Church, Accra and swiftly followed with a grand reception.
The Vice President, Dr Bawumia and his wife, Samira together with other high-profiled personalities and well-wishers graced the occasion.
This comes on the back of a colourful traditional wedding ceremony that took place on New Year's eve at a private venue in Accra.
Take a look at the lavish photos below:
We Will Love You To Join Our Over 170k Members Instagram Family With Just One Click @gharticles
Source: GhArticles.com