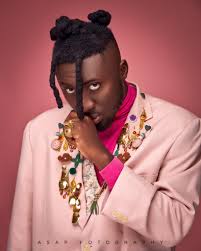 In a recent interview on Showbiz 360, Amerado Burner, who was named the 2023 VGMA rapper of the year, revealed that he faced severe challenges and almost gave up on his music career due to the high expectations and disappointments in the music industry. In 2019, while in London, he contemplated abandoning his career due to the pressure. However, he found the determination to continue after seeking advice from trusted individuals.
His comeback was not easy, and he resorted to playing casino games, betting, and seeking financial assistance from friends to make ends meet. Amerado shared that his musical journey began in high school, where he was influenced by friends and artists like Okyeame Kwame, Dr. Cryme, and Praye Honeho. He started by rapping to their songs and eventually began writing his own lyrics.
Despite initial nervousness, Amerado performed during an entertainment session and managed to impress despite trembling hands and an unsteady microphone. He also expressed his admiration for Okyeame Kwame and his desire to collaborate with artists like Shatta Wale, Stonebwoy, Asake, or Nigeria's Burna Boy.
Amerado encouraged Ghanaians and music enthusiasts worldwide to stream his latest track, 'Kweku Ananse,' available on major streaming platforms.