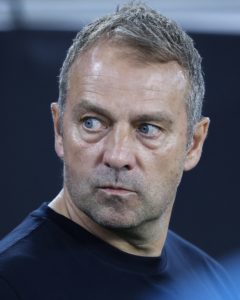 Hansi Flick's tenure as the head coach of the German national team has come to an end, with his dismissal sending shockwaves through the footballing world. This decision has left the German Football Federation in a critical position as they scramble to identify a suitable replacement. The urgency arises from the fact that Germany is set to host Euro 2024 in just nine months, making the selection of a new manager all the more crucial.
Internally, discussions are in full swing within the Federation as they weigh their options for the future. The task at hand is not only to find a competent manager but also someone who can quickly adapt to the team dynamics and lead them to success on their home turf during the upcoming European Championship.
In the interim, Rudi Völler, a seasoned figure in German football, will be stepping in to fill the coaching void. His experience and knowledge of the game make him a sensible choice to guide the team temporarily while the Federation meticulously searches for a long-term successor.
The departure of Hansi Flick has ignited a period of uncertainty for the German national team, but it also opens the door to new possibilities and the chance for a fresh start as they prepare to face the challenge of hosting one of the most prestigious tournaments in European football.