Date Rush Wahala: Meet The 4 Relationships That Have Ended In Premium Tears [Photos]
Date rush fans often look past the entertainment value to find out if the program is really effective as a means of find love, however, with many of the relationships born out of the program failing, they are starting to question the usefulness of the entire program.
Below are some of the Date Rush relationships that have ended in Premium Tears.
READ ALSO: Bella of TV3 Date Rush Exposes Bibi And Other Contestants, Calls Them Boyfriend Snatchers [Watch]
1. Powder Guy and Ruby
During the date rush reunion, Ruby publicly broke up with Powder guy live on stage.
Ruby recounts that she suspects him of cheating and that people have expressed to her that she is way out of Powder Guy' s League.
READ ALSO: Meet Queen Nabila: 10 Raw Photos of The American Girl Who Came To Find Love On TV3 Date Rush
2. Bella and Koffie
When Bella got a date, many date rush fans were truly excited for her as since appearing on the show she has never been selected.
Many commented saying they make a nice couple, however, Bella has revealed in an interview with Zion Felix that the relationship has ended due to they having plans and goals.
3. Grandpa and Susana
Grandpa who just got his date a week ago has also revealed in an interview with Zion Felix that the relationship has failed.
He went on to reveal that he and Susana had even reached the point where they have blocked each other on Whatsapp and don' t even pick each other' s call.
READ ALSO: Sika No Ahyi: Fatima Gets Broken-heart After Promising To Give Her School Fees For Love [Video+Photos]
When asked what caused the rift, they both explain that their personalities don' t match as they are both hot- tempered.
4. Manuella and David
David and Manuella in one of the episodes ended up as a match after David chose her among a lot of ladies present on the show.
However, it was evident on the show that Manuella was not interested in him and was forced to go with him because David turned her rush back on after she turned it off.
With the lack of interest, Manuella refused to go on any date with David who was stood up in one instance.
Source: Ghanaarticles.com
Pregnant Wife of Date Rush Contestant Two Sure Storms Reunion; Date Cries In Video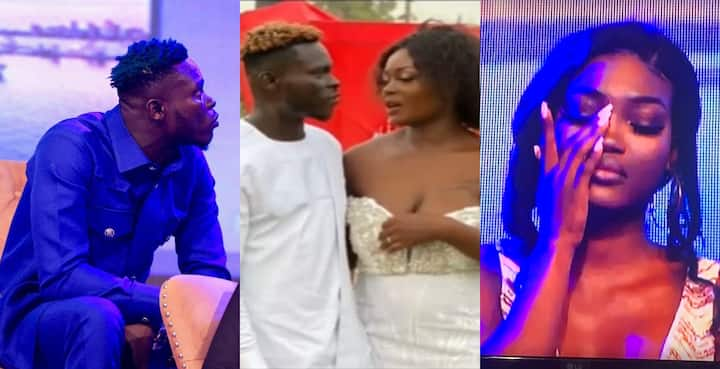 Two Sure, a Date Rush Contestant who was on Season 6 Episode 8 on March 6, 2022, and got himself a beautiful date, Lilly Brown, got all hell to break loose during the Date Rush reunion that was held on April 10, 2022.
During the event that saw all the contestants and their respective dates in attendance, Nuhu Mahama's wife popped out of nowhere with a pregnancy.
It was a dramatic moment as the lady who identified herself as Mrs Mabel Mahama indicated that she has been married to 2 Sure for a while now and they are expecting the baby together.
She also revealed that the engagement pictures that have been making rounds on social media since her husband got the beautiful date on the show are indeed true.
Lilly Brown, Nuhu Mahama's Date Rush partner who had been going on dates with him for some time broke into tears upon realizing what she had gotten herself into.
"It's not like I love him or want him but I just don't want to be the reason for another woman's unhappiness. That's something I've never wanted to find myself in, in my entire life," Lilly Brown said.
In the end, Two Sure was made to apologize to his wife, his date, the entire TV3 Media Limited as well as all the viewers for his actions.
Watch the video below;
View this post on Instagram
We Will Love You To Join Our Over 200k Members Instagram Family With Just One Click @gharticles
Source: GhArticles.com
Date Rush Contestant Lovelyn Tells Emotional Story About How Her Divorce Started The Night She Got Married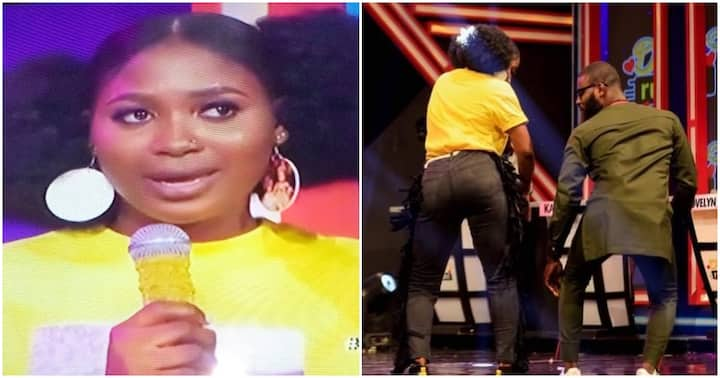 A proud mother of a three-year-old girl was on Episode 10 of the popular Ghanaian reality show, Date Rush and narrated a touching story that got the crowd highly emotional.
The lady named Lovelyn had come on the show with an outfit that displayed a picture of herself and the child she had together with her ex-husband.
When asked what happened to the child's father, Lovelyn took a deep breath and said:
"We got divorced. I really can't mention how long our marriage lasted because it started breaking off the very night after we had our wedding."
Although Lovelyn didn't go into details about what happened between her and the man, her actions on the show suggested that he was a physically abusive partner.
When it was time for her to ask the gentleman she was interested in a question, Lovelyn wanted to be sure that Robert was not abusive as she inquired:
"Are you a woman beater?"
The hardworking single mother ended up going on a date with a gentleman known as Robert who like her, appeared to be responsible and hardworking.
Another interesting aspect of Lovelyn was when she narrated that her most terrible first date experience was when the man told her he could see his ex in her.
We Will Love You To Join Our Over 190k Members Instagram Family With Just One Click @gharticles
Source: GhArticles.com
TV3 Date Rush: Watch The Moment Dennis Gives Marie A Promise Ring After Choosing Her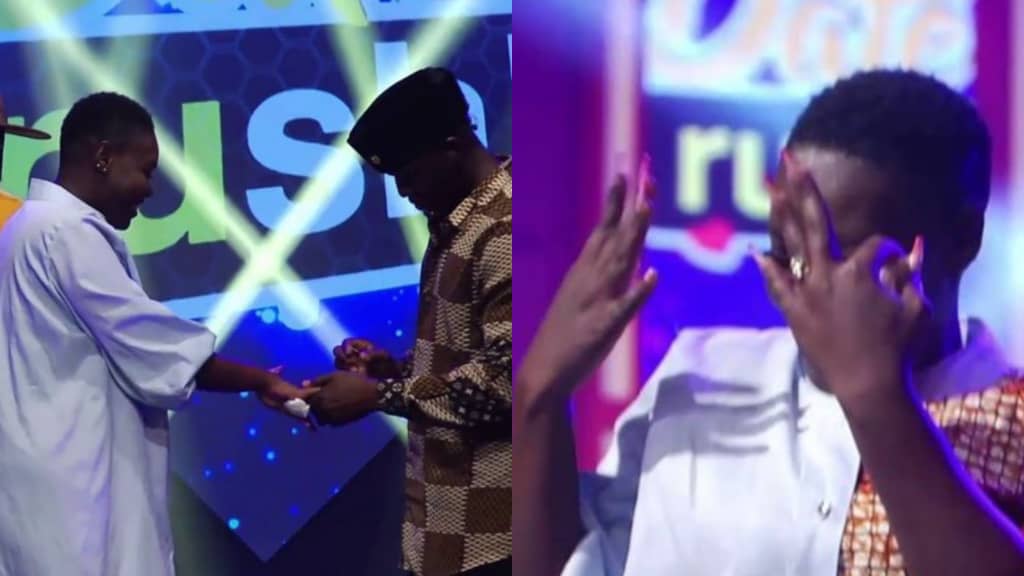 Last night, TV3 of Media General Group launched the much anticipated Date Rush season 6 after taking a long break since season 5 ended in last year.
The Date Rush is one of the most watched reality TV shows in Ghana, it returned to the screens at again.
As usual the 10 female participants were line up while expecting to get date on show.
Dennis came with some strong energy and his dance moves especially whining and twisting his waist as if he does not have bones got the ladies thrilled and interest to know him more.
After a few here and there and some pressure from the ladies, Dennis finally chose Marie Chantel at the end.
Dennis who was dancing with his date on show paused to told Giovani he actually came to Date Rush to find a woman he would marry in short time.
He brought out a promise ring and gave it to Marie who was so surprised that she nearly busted into tears.
Watch the video below;
View this post on Instagram
We Will Love You To Join Our Over 180k Members Instagram Family With Just One Click @gharticles
Source: GhArticles.com