BREAKING: Dozens Killed, Thousands Wounded In Beirut Blast
BREAKING: Dozens  Killed, Thousands Wounded In Beirut Blast
Lebanese Health Minister Hamad Hassan says more than 50 people have been killed and 2,700 are wounded in a massive explosion at the port in Lebanon's capital, Beirut.
The explosion released a shockwave causing widespread damage to buildings and shattering windows in different parts of the city.
The cause of the explosion was not immediately clear.
Hassan said that they had contacted the World Health Organization (WHO) to bring in an aid plane.
Tesla Sued Over Having A ' Racially Segregated Workplace'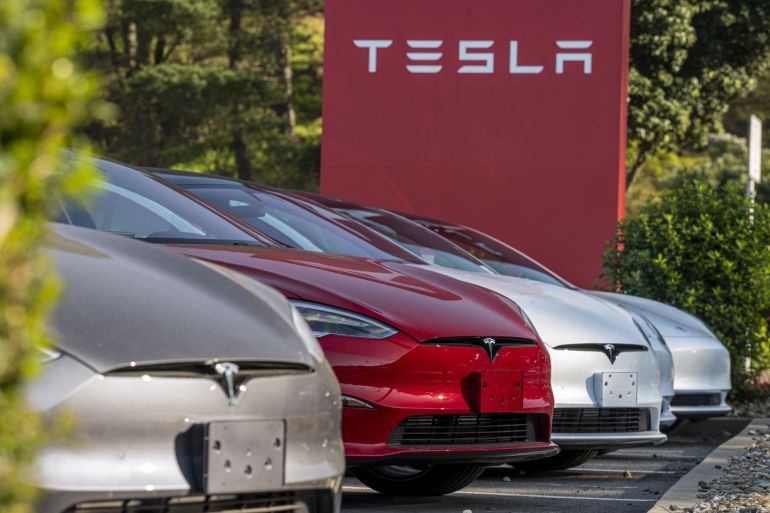 Tesla stock seems to be plummeting after the tech giant was hit with a lawsuit, which details multiple complaints about the company's mistreatment of Black factory workers.
According to Wall Street Journal, the suit, filed by the California Department of Fair Employment and Housing on Wednesday, includes alleged workplace discrimination happening at Tesla's U.S. car plant in the San Francisco Bay Area.
"After receiving hundreds of complaints from workers, DFEH found evidence that Tesla's Fremont factory is a racially segregated workplace where Black workers are subjected to racial slurs and discriminated against in job assignments, discipline, pay, and promotion creating a hostile work environment," CDFEH's director Kevin Kish said in a statement.
Tesla responded to the lawsuit in a blog post, insisting that the company takes all the necessary steps to create an inclusive and safe environment for its employees.
"Tesla strongly opposes all forms of discrimination and harassment and has a dedicated Employee Relations team that responds to and investigates all complains," the company said on Wednesday. "Tesla is also the last remaining automobile manufacturer in California. The Fremont factory has a majority-minority workforce and provides the best paying jobs in the automotive industry to over 30,000 Californians."
Despite the company's statement. the lawsuit states that Black employees reported being assigned to more physically demanding tasks compared to their peers of other races, and some reportedly recalled supervisors and managers using racial slurs.
Tesla was previously under fire for reportedly subjecting a Black contract worker to a racially hostile environment. The company ultimately awarded the man $137 million in damages.
We Will Love You To Join Our Over 190k Members Instagram Family With Just One Click @gharticles
Source: GhArticles.com
Floyd Mayweather Refuses To Take Photo With Young Male Fan Over His Painted Nails
Floyd Mayweather refused to take a picture with a male teenage fan and mentioned the boy's painted nails as an issue.
It all went down at a Clippers game over the weekend. The teen approached Floyd and his crew hoping to take a selfie with Floyd after the Clippers vs. Grizzlies game at the Staples Center, according to TMZ
The teen was recording when he captured Floyd rejecting his request.

"You got painted nails, I don't take pictures with guys with no painted nails," Floyd is heard saying in the video as his bodyguards try to get the young fan to back up.
The fan was visibly upset by the rejection and even went as far as accusing Floyd Mayweather of being homophobic.
"Damn, bro! Floyd's a homophobe," the fan exclaimed as Floyd walked away. "…Floyd doesn't want to take a picture with me because my nails are painted. Bruh, really?!"
We Will Love You To Join Our Over 170k Members Instagram Family With Just One Click @gharticles
Source: GhArticles.com
Facebook Is Reportedly Set To Change Its Name In An Effort To Rebrand The Company
it's been an interesting few weeks for social media platform Facebook, as the massively popular company has dealt with a widespread outage that rocked the Internet and introduced a slate of new anti-harassment and bullying policies.
However if new reports prove to be accurate, Facebook is set to undergo a major change that will see the company being called an entirely different name.
@TheVerge exclusively reports, Facebook is planning to permanently change the name of the company as early as next week, according to inside sources with direct knowledge of Facebook practices.
Facebook founder and CEO, Mark Zuckerberg, will reportedly formally discuss the company name change at Facebook's annual Connect Conference on October 28th—although there is reportedly a strong possibility that the name could be changed before then. The name change is the first step in the company's efforts to rebrand itself as being known for more than just social media, while highlighting that Facebook owns an enormous part of the social media landscape courtesy of Instagram, WhatsApp and more.
Apparently, Facebook's new name is such a heavily-guarded secret, that even employees in senior positions at the company are not currently aware of what it will be. Tech experts have speculated that Facebook could potentially change its name to something involving Horizon—which is the name of an unreleased VR version of a Facebook and Roblox mash-up that has been in development for the last few years. 'Horizon Worlds' (the name of the VR app) is what insiders believe could be the top name choice.
Meanwhile, Mark Zuckerberg reportedly wants to usher in Facebook to the new era of the metaverse, which he previously said is "going to be a big focus, and I think that this is just going to be a big part of the next chapter for the way that the internet evolves after the mobile internet." In case you're unfamiliar, a metaverse is a virtual world people escape to from a dystopian, real world.
Regardless of the timeline, it's clear that Facebook as we know is definitely about to change.
We Will Love You To Join Our Over 170k Members Instagram Family With Just One Click @gharticles
Source: GhArticles.com