Twitter Users React To Aku Sika Akuffo Shredding Ho Polytechnic Over Jake Bediako's Appointment
Twitter has been buzzing since the promotion of Jake Bediako to the role of Presidential Coordinator for Youth Engagement and Strategy at the Office of the President.
Many Ghanaians have wondered what exactly that role entails and have concluded that it's just an opaque role created to satisfy family and cronies of the ruling New Patriotic Party (NPP) government.
READ ALSO: Twitter Users React After Efia Odo Called Kwadwo Sheldon A "Slave" Over His Picture With Information Minister
But in defense of Jake, Aku Akuffo, a legal practitioner and a niece of President Akufo-Addo said Ghanaians have no 'right' to question the appointment.
She alluded to the fact that Mr. Bediako is overly qualified with two degrees from Ivy League schools.
In a post on Instagram, she compared Ho Poly to the Ivy League schools and Ghanaians are having none of it.
Check the reactions from Ghanaians on twitter below
https://twitter.com/Listo_Mens/status/1398605003456188418?s=20
https://twitter.com/jamessowah/status/1398557913992531969?s=20
https://twitter.com/1RealKidd/status/1398573376474656768?s=20
Youth: what is your actual job

Aku Akuffo: keep quiet with your Ho Poly certificate
Smh

— cheri (@che_rry_coco) May 29, 2021
Low key a lot of people feel someway when our friends or sb tells us they're products of Technical Universities. I don't blame Aku Akuffo for her words. I blame her parents. They did well in grooming her for life but failed to teach her how to appreciate others' background.

— Stanley_Gyan (@GyanStanley_1) May 29, 2021
Any Ho poly student or ex student aka legon, knust, winneba , upsa , gij etc who makes any effort to defend Aku Akuffo should really examine their conscience

— YKGH (@YouKnowGhana) May 28, 2021
Anyways me I no dey blame the Aku Akuffo girl for looking down on Ho Certificate. In fact I dey commend am paaa, E bi so naaa e go happen. Abi, you people say you go follow the politicians blindly. You deserve it! You go feed them wey them san go shit for your top.

— Nungua_Thanos (@GHCodeMonkey) May 29, 2021
Lady Allegedly Poisoned To Death After She Told Her Friends She Was Traveling To UK (+Video)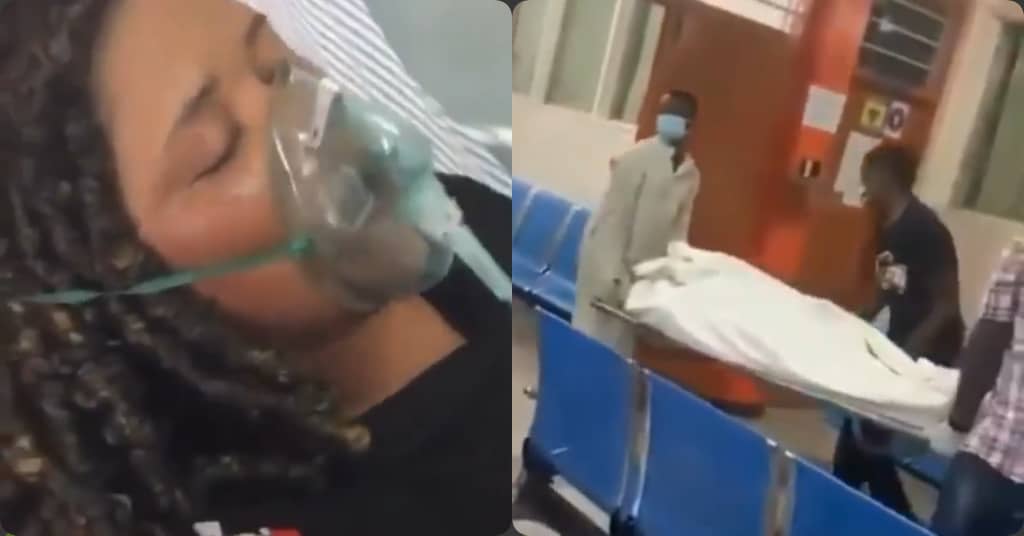 2022 has started so well for some people but for others it is the beginning of bad news.
GhArticles.com have intercepted a viral video of beautiful lady who has been allegedly poisoned to death after she told her friends she was traveling to the United Kingdom.
In the video seen online, the lady could been seen lying on a hospital bed while in oxygen.
She could be seen struggling to gasping for breathe. However, she died eventually.
The next video captured, saw some people carrying the dead body of the lady to be deposited at the mortuary.
What a wicked world. Beware of the people you call friends. Try to keep certain vital information to yourself.
Watch the video below;
View this post on Instagram
We Will Love You To Join Our Over 180k Members Instagram Family With Just One Click @gharticles
Source: GhArticles.com
Facebook Pays Fines To Russia Over Banned Content
Facebook has paid 17 million roubles ($229,643) in fines owed in Russia for failing to delete content Moscow deems illegal, the Interfax news agency reported on Sunday, but with the threat of a potentially larger fine looming.
Facebook parent Meta, along with Alphabet's Google, faces a court case next week for suspected repeated violations of Russian legislation on content and could be fined a percentage of its annual revenue in Russia.
Facebook did not immediately respond to a request for comment on Sunday.
Russia in October sent state bailiffs to enforce the collection of 17 million roubles in fines imposed on Facebook.
Interfax said there were no more enforcement proceedings against the company as of Sunday, citing the federal bailiff service's database.
Moscow has increased pressure on large tech firms this year in a campaign that critics characterise as an attempt by the Russian authorities to exert tighter control over the internet, something they say threatens to stifle individual and corporate freedom.
Interfax said messaging app Telegram has also paid 15 million roubles in fines.
Telegram did not immediately respond to a request for comment.
We Will Love You To Join Our Over 180k Members Instagram Family With Just One Click @gharticles
Source: GhArticles.com
Social Media Users Praise Fresh Ghanaian Girl Dating A Ghetto Guy Living In A Dirty Area [Video]
A Ghanaian young man seems to be shocked at the way his current situation doesn't match up with the beauty of his current girlfriend.
In a viral video trending on social media, the guy showed off his beautiful girlfriend who was following him through to his 'filthy' ghetto without even frowning.
The guy who seemed very shocked took the video of this town moment of theirs in order to motivate other ladies to stay with their guys when things change for him and his cute babe.
Looking at how beautiful the lady was, the video has garnered massive reactions on social media with a lot of netizens pouring in their opinions.
Watch the video below;
View this post on Instagram
We Will Love You To Join Our Over 180k Members Instagram Family With Just One Click @gharticles
Source: GhArticles.com