The latest Ghanaian fashion styles reveal the people's diversity and distinctive clothing taste.
Conservative women wear outfits that do not show much skin or body curves. In contrast, these clothing designs entice modern women.
READ ALSO: Top 5 Women African Wear Style To Rock On For The Christmas
The new trend of Ghanaian fashion dresses is couple's matching outfits.
Below are the latest Ghanaian fashion styles in 2021, including Ghanaian fashion dresses pictures for guys.
1. A mid-calf size Kento dress and African wax print male shirt
The lady's tea-length silhouette has a full circle skirt that hits at the mid-calf. Wear it with cute medium or low-heeled pumps or flats for a classic look. It matches perfectly with the man's simple Ankara shirt.
2. The short princess dress
Most African-in-laws hate seeing females in revealing outfits. However, these types of African wear styles for ladies are the best for naturally naughty and seductive women.
If your partner approves a slightly provocative romantic gesture, wear the short princess dress.
Show him that your taste of fashion is still intact, although it has been years into marriage.
3. African print maxi dress
These designs of African wear for ladies are loosely attached to the body.
They are recommended for pregnant women to enhance the unborn baby's development instead of the tight Ghanaian fashion dresses.
The East African coastal communities call them Deras.
4. Ankara overcoats
You would get weird stares a few years ago if you wore African print attires in developed countries.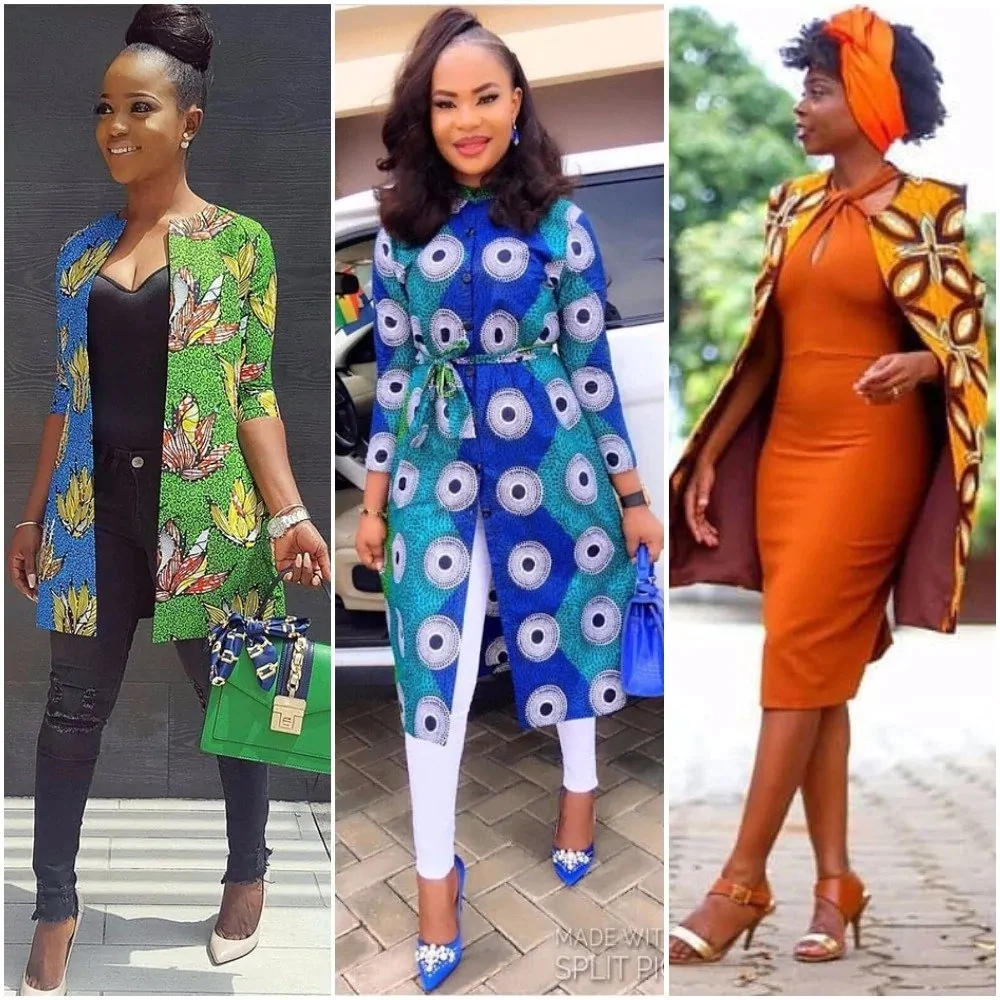 However, Ankara jackets are now a considerable part of western culture.
Although these coats are among the most expensive attires in developed countries, everyone wants to own several of them.
5. An African ball gown
Your African princess will surely love this outfit. The ever-trending children's Cinderella movies inspired it.
As long as the world cherishes these movies, this cloth will always be a fashion masterpiece.
6. Denim Ankara tops and shirts
The lady matched the man's Ankara denim shirt by putting on a gorgeous high-low peplum Ankara top.
The Ankara denim shirts, shorts, and bomber jackets are the latest Ghanaian fashion dresses for guys.
7. A bodycon dress
When you mix traditional Ghana dress styles and fabrics with other countries' textiles like satin, the outcomes are the all-time exquisite and trendy fashion pieces.
Bodycon designs are the latest straight dress styles in Ghana. The stylish laces in front turn this cloth into a feminine treasure.
8. Ankara jumpsuits
The jumpsuit is simultaneously comfortable and makes you look and feel good the entire time you will be wearing it.
The slim-fitting one-piece garment covering the arms and legs is meant for a fancier event because it lends the person a high-class appearance.
9. A traditional Ankara suit and an African print mermaid gown
Impress people out there and kill your relationship's haters with jealously by stepping out in your favorite traditional Ankara male suit that matches the fabric of your spouse's attire.
Show them that you have the best partner in fashion and love.
10. The sexy African print maxi dress
Dinner dates and female parties were not part of Africa's lifestyle years ago but not in the 21st century.
Ladies make unforgettable impressions on their guests by putting on these sexy straight dress styles for dinners and night events.
11. A Kento shirt dress
An African print shirt outfit of any design looks good with ankle boots, stilettoes, and other shoe designs.
A thick or medium-sized waist belt will help you define your waistline. You can also wear plain-colored leggings, body-shaping jeans, or a mini-skirt beneath the garment.
12. Mermaid kitenge silhouette
The garment resembles a mermaid white wedding gown! Would you wear these beautiful African dresses styles to your weddings?
If not, wear it on to the dining reception after the ceremony. The flattering fishtail outfit will never go out of style.
 13. Ankara female mini-skirt and male shorts
The African print short looks incredible when paired with a cowboy hat and a plain colored shirt or t-shirt and sneakers.
The sneakers must match the color of the shirt. The lady also looks fantastic in a similar outfit as his.
14. Ankara rompers
Ankara rompers are among some of Ghana latest fashion dresses.
The right choice of traditional Ghana fabric gives you an excellent, flirty, classic, and playful romper design. Try it out to experience its sweetness.
15. Ankara jacket and skirt
When your boss instructs you to wear a cultural-themed attire for an event, wear this eye-catchy garment.
The outfit will lend you an unmatched casual-official appearance that will not only drop the jaws of your colleagues but also increase the chances of getting a promotion.
16. Two-piece off-the-shoulder Kento sundresses
The above Ghanaian fashion wear has got your back on afternoon or evening walks along the beach.
It is light in weight and has a chic, simple, and fun look that allows you to experiment with different accessories and makeup. Please remember to bring a matching clutch purse without a strap to the beach if necessary.
Have these Ghanaian fashion dresses motivated you to wear more African print clothes? You will be delighted by these fabrics' durability and comfort. Moreover, they are very affordable and easily accessible in any African country.
Source: Ghanaarticles.com/YEN.com.gh